"50 seats and a cow" sums it up nicely, though the secret to Cleaver (524 17th Ave S.W.) is just that – a secret. With sharp design and a modern industrial look, Cleaver still feels new and mysterious after a year on the avenue.
Owners Alex Rivera and Barbara Spain are keen to keep their Irish roots at the core of Cleaver and rely on tried and tested word of mouth to share their story of culinary adventure through Ireland, England and now YYC. Refreshingly demure, Cleaver can only be experienced by walking through the door — their cocktail menu speaks volumes about the quality and care that is taken behind the bar.

Order a 'Monk & Mexican' and let the combination of tequila, chartreuse and ginger cleanse your palette. Spilling with ice, it's served in a copper mug and finished with thyme, cucumber and citrus.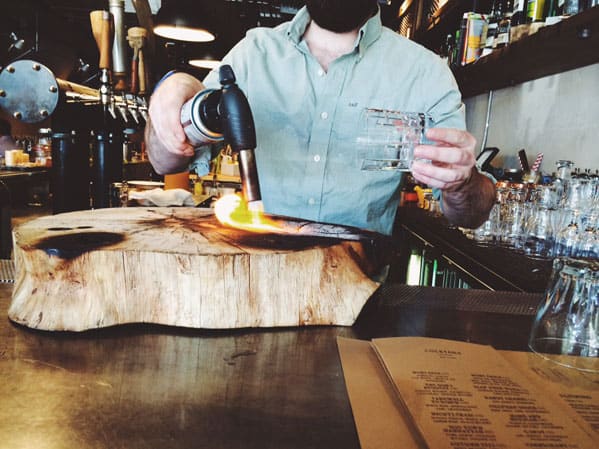 Or slow it down and savour a classic with their most unique 'Double Barrel Old Fashioned,' made with bitters and smoke from a torched tree trunk, soaked for three months in bourbon.
The cocktails at Cleaver are cut out for lingering conversations and sparking inspiration. Stop by and indulge in one of the avenue's best kept secrets.
Stay up-to-date on all Cleaver news by following them online below:
Facebook: facebook.com/Cleaver
Twitter: @CleaverCalgary