In honour of World Health Day today, we are rounding up all of the ways you can give yourself some love today, and prioritize both your physical and mental health on 17th Ave. Grab a nutrient-rich smoothie from one of our amazing 17th Ave food joints; hop online for a virtual workout with a downtown fitness studio; or book a massage or acupuncture session to deal with some of those prolonged aches and pains. From fitness to nutritious food, physiotherapy to counselling, there are so many amazing businesses on 17th Ave who can help you to maintain optimal health and wellness, and live your best life possible. 
Food
Fork & Salad
Fork and Salad proves that healthy, nutritious meals don't have to be boring or bland. Their menu contains dietician-approved meals made with organic, locally sourced and seasonal ingredients to create healthy but delicious, fast-casual meals – they rotate their seasonal menu four times per year to ensure they're highlighting the best, freshest products of the season. Their seasonal salad menu currently includes a Chinese chicken noodle salad made with chopped romaine, veggies, chow mein noodles, wonton strips and a sesame vinaigrette. Or you could go with one of their classic salads or grain bowls featuring tasty ingredients like wild rice, toasted almonds, spicy broccoli citrus shrimp and more. There is also a build-your-own option if you want to get creative. 
120, 880 16 Avenue SW, forkandsalad.com
KB & CO
The nutrient-dense, Instagram-worthy meals on KB & Co's menu are not only delicious, but they are also entirely plant-based. Find espresso-based beverages, superfood latte and a variety of superfood and protein smoothies to start off your day, and then dive into their selection of breakfast, with options like oat and hemp seed berry waffles or cashew cream cheese avocado toast. KB & Co's menu also consists of a number of different salad and grain bowls, soups, snacks, sandwiches and wraps. Menu items like their Chipotle Taco bowl made with their spiced walnut "meat," or their coconut BLT sandwich made with coconut bacon will have you coming back for more, whether you eat meat or not. 
926 16 Ave SW, kbandcompany.com
Freshii 
Did you know that every 90 days, Freshii rolls out a new menu item that incorporates the newest health and food trends? It's this kind of innovation that has made Freshii one of the best fast-casual spots in Canada. Their nutritioun-led menu features 7 major categories including bowls, burritos, salads, wraps, soups, smoothies and juices. In every Freshii dish, you can find tons of veggies, super foods and nutrient-dense ingredients such as kale and turmeric. They also integrate eco-friendly materials whenever possible, and serve their food in biodegradable packaging. 
1708 8 St SW, freshii.com
Fitness Services
With everything going on in the world right now, incorporating fitness and movement into your daily routine is essential to your wellbeing. Luckily, 17th Ave is home to several unique and amazing fitness studios, all of whom have gone above and beyond in modifying their services to make them as COVID-friendly as possible. Some studios have transitioned to an online only platform, whereas others have added more one-on-one training options. Either way, they are providing you with all the opportunities to continue on with your fitness journey, despite all the crazy things going on around you. Grab your workout gear and your mask, and prepare to break a sweat with these 17th Ave fitness studios.
Good Life 
Head to Good Life's website and social media, where you can access tons of different online classes and weekly live workouts you can do from the comfort of your living room. You can also still access one-on-one personal training to get your gym fix in.
880 16 Ave SW, goodlifefitness.com
League 
17th Ave's newest all-encompassing fitness studio is offering virtual fitness classes via VOD, which incorporates Spin, Yoga and HIIT, taught by your favourite League instructors. Learn more about these high-intensity classes you can access online, below!
1463 17 Ave SW, leagueyyc.com
Rumble 
Release that pent up WFH energy at Rumble Boxing, where they are offering a number of different COVID-friendly ways to break a sweat this month. Work one on one with a personal training and get a customized fitness and nutrition plan, or hop onto one of their virtual shadow boxing classes – you don't need any equipment, and all fitness levels are welcome! 
720 17 Ave SW, rumbleboxing.com
My Body Couture
This one-on-one private studio is the perfect way to keep moving during this ongoing pandemic, and Janis Isaman's customized nutrition and movement coaching has already aided hundreds of people with mobility and other body issues. She is offering live zoom sessions in place of in-person sessions, so you will still be able to get your daily dose of movement in with My Body Couture. 
908 17 Ave SW, mybodycouture.com
Studio Sat Nam
Studio Sat Nam has moved all of their classes online, so there is no excuse to skip out on your yoga practice when it's this accessible! Join in on up to three new classes each day, taught by Studio Sat Nam instructors, as well enjoy round the clock access to their video library with all of their pre-recorded classes. Head to their website to learn more about membership, online classes and more. 
819 17 Ave SW, studiosatnam.ca
Amped Advantage
Amped Advantage offers a unique one-on-one training model featuring EMS training, meaning Electric Muscle Stimulation. During traditional strength training, the brain sends impulses which stimulate certain muscles to contract, but not all muscles have a well-developed connection to your brain, and therefore are not activated or developed as easily. EMS training stimulates all major muscle groups, and aids in developing the morotic nerve connections relating to muscle movement. This unique method of training only requires two, 20 minute sessions per week, and the team at Amped Advantage also offers personalized workouts and nutrition. Learn more about what they refer to as "the future of fitness," and how you can get involved with EMS training at their website below. 
1501 17th Ave SW, ampedadvantage.com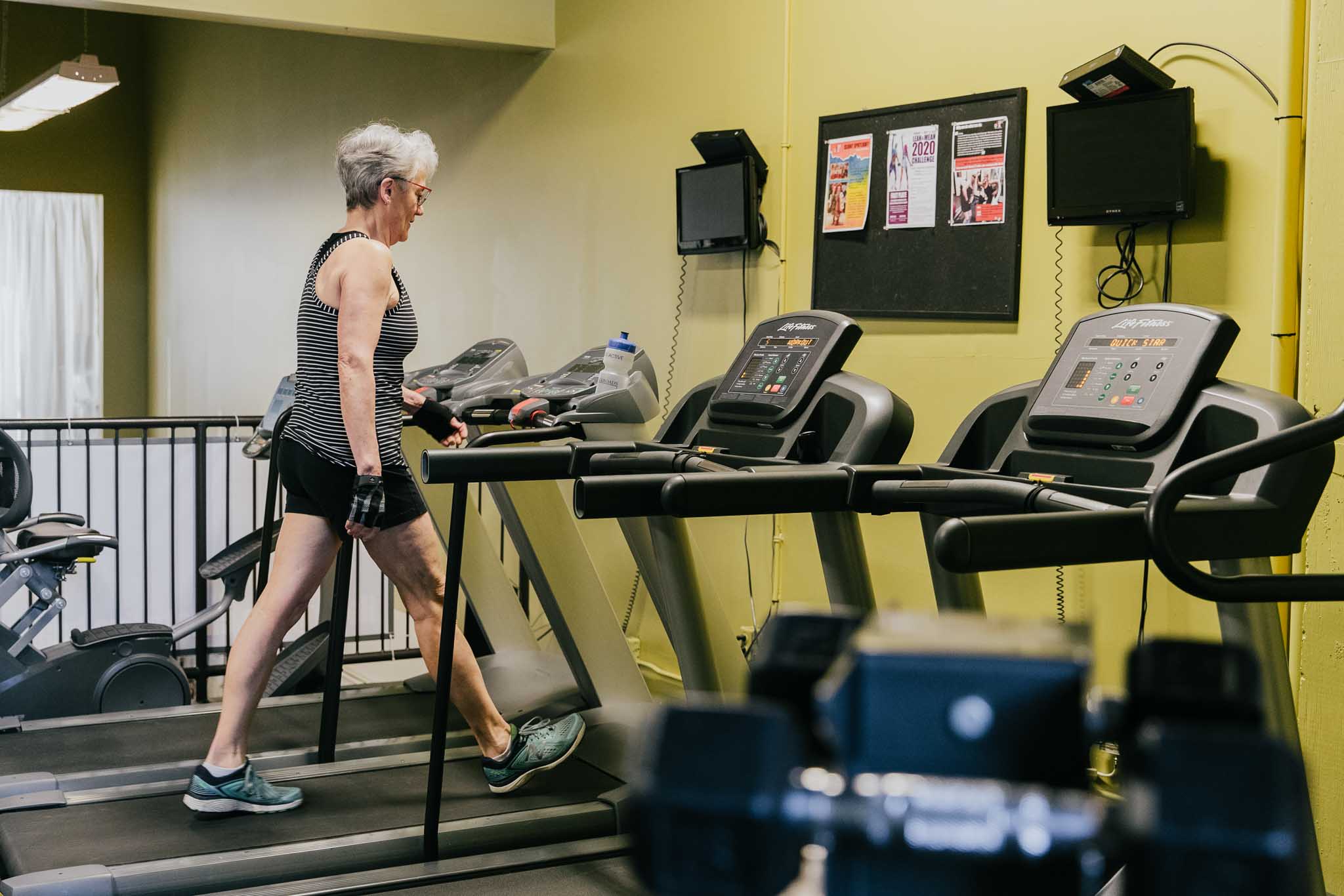 *Photo Taken Pre-COVID.
One On One Personal Fitness
One on One fitness provides customized programs for fitness and nutrition from their experienced team of trainers including owner and fitness guru, Sandra Bueckert, who started One on One more than 30 years ago, and  boasts a wealth of experience and knowledge within the fitness industry. Members receive individual coaching to eliminate generic fitness plans. You can also book a free consultation at their website below to ensure their services are right for you and your fitness journey. 
1516 17 Ave SW, oneononefitness.ca 
Wellness Services
Prema Wellness
Prema Wellness is the perfect place to treat yourself to a day of wellness. You can access services for your body such as massage, acupuncture and energy work, and you can also enjoy beauty services like facials, skin care, lashes, brows and more. Learn more about their services and on-going specials at their website below. 
1429 17 Ave SW, premawellness.ca

Oasis Wellness 
For the ultimate spa experience – think body treatments, massages, manis, pedis and more – check out Oasis Spa, 17th Ave's expansive, Egyptian-inspired wellness spa. They also offer a number of different monthly specials and gift certificates, so check them out online to learn more. 
880 16th Ave SW, myoasisspa.ca
Acupuncture Collective 
Acupuncture Collective is a unique acupuncture-focused clinic that incorporates traditional Chinese medicine with western biomedicine to assist you with healing from pain, preventing disease and maintaining optimal health. They offer a variety of different wellness services to treat issues ranging from pain and digestive health to fertility, insomnia and emotional health with techniques like classic acupuncture, facial acupuncture, massage therapy, cupping, herbal therapy and solepath monitoring. P.S.,did you know that acupuncture, cupping and herbal medicine are all tried and true techniques that have been used to treat people's health concerns for more than 2,500 years! 
1039 17th Ave SW, #801, acupuncturecollective.ca

Inspired Minds 
Inspired Minds provides a collaborative and holistic approach to health at their outpatient, fee for wellness service centre located in Calgary's Beltline. They offer a variety of services geared towards both mental and physical health including comprehensive intake assessments and treatment planning, individual and group therapy and workshops provided by registered professionals, as well as yoga and meditation classes. Inspired Minds is offering services in person, as well as over the phone and via Telehealth – learn more about their broad range of wellness services and how you can get involved at their website below. 
Suite 320, 1414 8th St SW, inspiredmindswellness.com
Prairie Therapy 
Give your body the attention it needs at Prairie Therapy, where they offer one-on-one physiotherapy appointments in which they provide personalized treatment plans to aid you with issues including acute injuries, arthritis pain, MVA/whiplash, concussions and more. Their range of wellness services also includes acupuncture, athletic therapy, massage therapy, traditional Chinese medicine and osteopathic manual therapy. Stop ignoring all those aches and pains, and let Prairie Therapy's team of experienced professionals help you get back on track. 
204, 1039 17th Ave SW, prairietherapy.ca
Luna Spa & Therapeutic Massage 
Sometimes you just need to unwind and treat yourself, and what better way to do that than with a relaxing massage from Luna Spa & Therapeutic Massage on 17th Ave. They offer a variety of massages ranging from deep tissue to relaxation, sports massage, hot stone massage, Swedish massage and Shiatsu massage. You can also tend to other health and wellness needs with services like cupping, reflexology and aromatherapy. 
1235 17th Ave SW, lunaspa.ca
Intrinsi
This 17th Ave rehabilitation facility brings to you a comprehensive list of services from a diverse team of osteopaths, physiotherapists and massage therapists, who provide one-on-one treatment to best asses your care plan, while also working collaboratively with other therapists within Intrinsi to ensure you are receiving the most effective form of treatment. You can access a myriad of wellness services here including TCM and acupuncture, clinical pilates, chiropractor and more. Check out their website to learn more and book your appointment today. 
103, 1608 17th Ave SW, intrinsi.ca
Stalk the latest and greatest on 17th Ave:
Instagram: @17thavesw
Facebook: @17thavesw
Twitter: @17thavesw