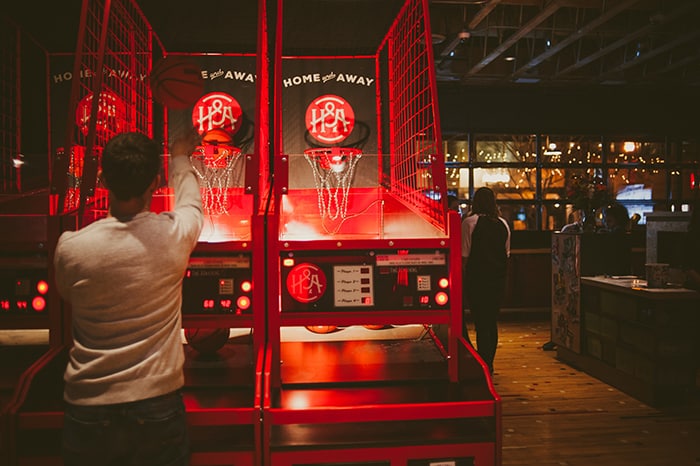 At Home & Away (1331 17th Ave. S.W.) it's teamwork that makes the dream work – the creative lineup behind CRAFT, Commonwealth Bar & Stage and the HiFi Club proudly bring Calgary sports fans the avenue's spirited new eatery.


Combining the best of food and drink, Home & Away blends gourmet local grub in a nostalgic setting. Reclaimed hardwood gymnasium floors and vintage score boards will have you reminiscing on childhood games, and the Skeeball and Pop-a-Shot machines will inspire a little healthy competition.


Whether it's counter-culture sports on the big screen to home openers, Super Bowl, March Madness and more, Home & Away sets its mark as the avenue's official rallying point. Co-founder PJ L'Heureux says, "Calgarians are a spirited, collaborative and tenacious community of people," noting that here in YYC "we work hard and love to play." With a mutual desire to celebrate fanaticism for game day, this team has definitely worked hard to make a place with a sense of community that only sport can create.


And with clear eyes, full hearts, and a full stomach you can't lose. Executive chef Mike Pigot creates winning dishes – from Wagyu Beef Home Dog to Baltimore Shrimp Club and Pork Belly Mac and Cheese, and other 'Away-inspired' dishes from around the world. Pair this with finely-crafted draft beer and your carefully chosen fantasy draft picks and you have yourself a winner.
Home & Away officially opens Thursday, November 12th at 11:00 a.m.
Stay up-to-date on all things Home & Away by following them online below:
Facebook: facebook.com/homeandawayyyc
Instagram: @HomeandAwayYYC
Twitter: @homeandawayYYC