What began as a one-day "poutine-crawl" in Calgary eleven years ago has evolved into one of the most anticipated annual food festivals of the year. There's never really a bad time for poutine, but when you purchase this Canadian staple from one of the participating restaurants, a healthy meal is provided to a youth in need through Mealshare and their charity partners. We promise you, the melty cheese curds, the savoury gravy and of course the delicious french fries at the base of it all will test 10x better knowing you're helping you local youth. This year, Poutine with a Purpose runs from April 23rd to May 2nd, and many of our favourite 17th Ave businesses have put forth some delicious creations for the event. Check out what you can find on 17th Ave for Poutine with A purpose below! 
Photo Credit: Calcutta Cricket Club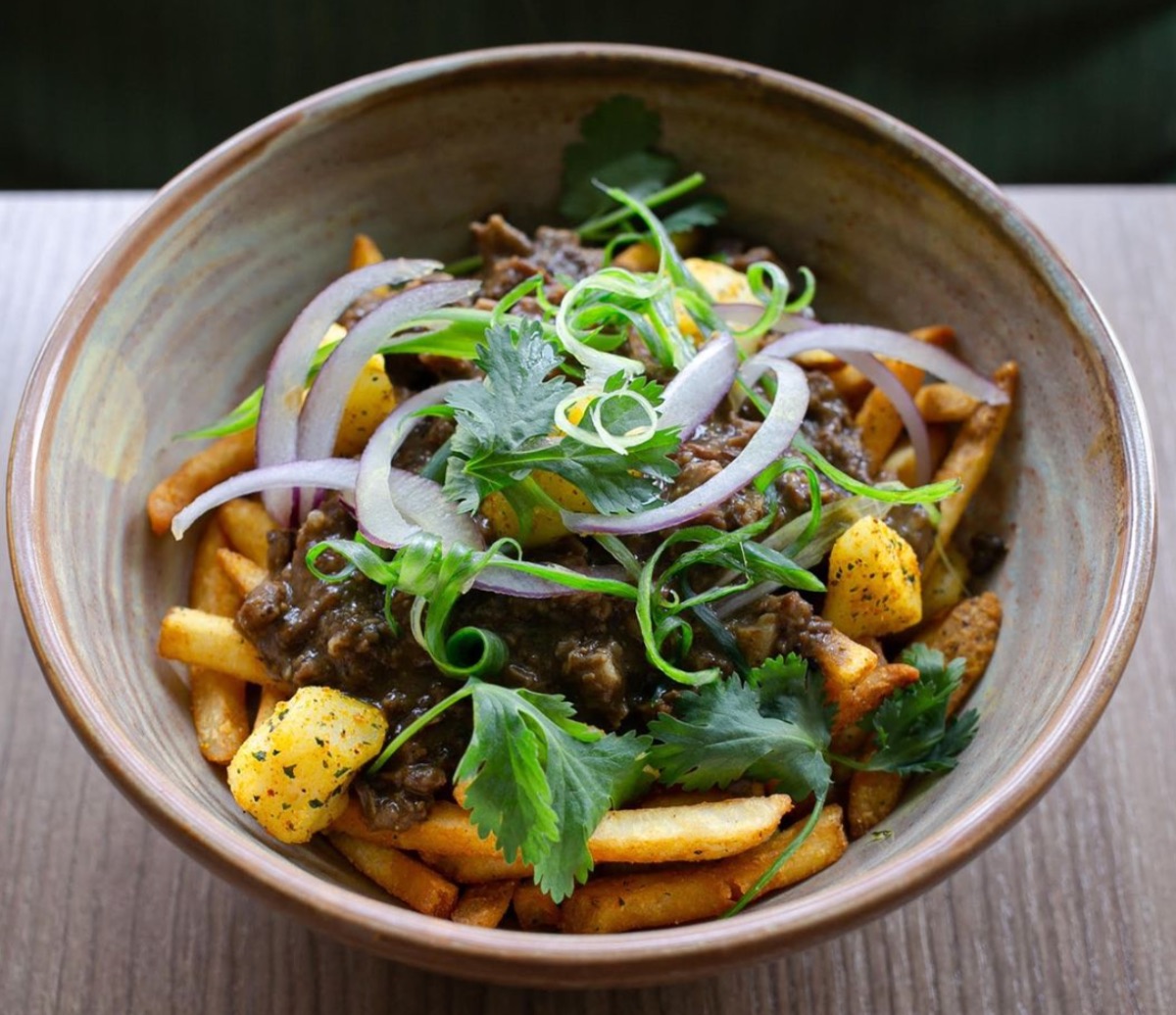 Calcutta Cricket Club
We expect nothing short of amazing from this Bengali-inspired 17th Ave favourite, who is serving up a lamb vindaloo poutine complete with braised lamb rib vindaloo, turmeric salted fries, cheese curd and onion. This may not be the traditional poutine toppings we're used to, but we will certainly be gobbling up every last bite. 
340 17 Ave SW, calcuttacricketclub.com
V Burger 
The team at V Burger is continuously proving that the absence of meat and dairy is not the absence of flavour. Exhibit A: their 100% plant-based fried chick'n poutine, made with french fries, their fried chick'n, bac'n, chick'n gravy, hot sauce and green onions. 
819 17 Ave SW, heyvburger.com
Ship and Anchor 
The 'Brit Box' is the Ship and Anchor's epic Poutine With a Purpose submission, and it's made with house cut russets topped with British "chip shop" curry gravy, Quebec cheese curds, Guinness battered haddock and creamy coleslaw. We're already dreaming about pairing this with an icy cold brew and scarfing it all down on their central 17th Ave patio. 
534 17 Ave SW, shipandanchor.com
Heaven 
Heaven puts a Venezuelan spin on their Poutine With a Purpose submission, serving up their savoury yuca fries poutine topped with Canadian cheese curds, beef jus, roasted shredded chicken, and green onions. Not only is this poutine absolutely delicious, but it contains halal proteins and is completely gluten free. 
1013 17 Ave SW #119, heavengf.com
King of Donair 
If you haven't had a chance to hit up this newly opened donair joint on 17th Ave, there is no time like the present. For Poutine with a Purpose, you can finally dig into their renowned donair meat and original spices loaded on top of their classic poutine. 
503 17 Ave SW, kingofdonair.ca
Trolley 5 
Trolley 5's maple bacon poutine is about as Canadian as it gets: served with Quebec cheese curds, house-made gravy, maple syrup, bacon, shredded slow smoked brisket and topped with green onions and maple bacon seasoning. This sounds pretty good, eh? 
728 17 Ave SW, trolley5.com
Stalk the latest and greatest on 17th Ave:
Instagram: @17thavesw
Facebook: @17thavesw
Twitter: @17thavesw