Longer days, warmer nights – summer has finally arrived on 17th. Luckily, Tutti Frutti Frozen Yogurt has opened just in time.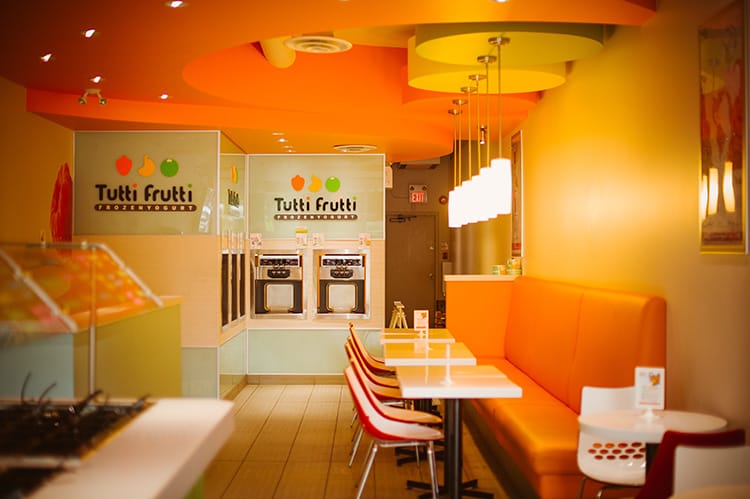 Tucked behind Tomkins Park on 16th Ave SW and 8th Street, walking in to Tutti Frutti is a little bit like walking into a cartoon – bright colours and characters line the walls, fun music fills the space, and using your imagination is encouraged. There are tons of frozen yogurt options and fresh ingredients, so prepare to enjoy pretty much any combination you can dream up.
Tutti Frutti is a self-serve environment, and as you move towards the back of the store, there are 10 different varieties of frozen yogurt available to choose from, with flavours changing all the time. Lactose or vegan? You can still enjoy a healthy frozen treat, as Tutti Frutti prides itself on offering non-dairy options, providing soy bean frozen yogurts in several flavours.  After selecting your base, move to the front of the store to choose your toppings. With everything from cookie dough to fresh fruit to granola, your sweet treat can be made exactly as you want it.
"There are over 35 locations across Canada, and our 17th Ave store is our first in Calgary." explains Owner Dong Kim. Kim came to Calgary from Edmonton, and though his first store is a small departure from his background in social work, Dong enjoys the human side of the business.
"People are in good spirits when they come to Tutti Frutti and are happy when they leave."
The atmosphere and business model appeals to all sorts of customers, and 17th Avenue offered Kim exactly what they were looking for in their first store.
"17th Avenue offers a great amount of walking traffic, young families, nearby schools and a strong restaurant community." Says Kim.
When he's not dreaming up new combinations of frozen yogurt, he also enjoys what 17th has to offer. "I like Una Pizzeria, Market and some of the Pho options like Codo" though it's safe to say Kim would be heading back to Tutti Frutti for dessert. His favorite combination?
"Raspberry Cheesecake with Fresh Fruit – I keep it simple."
With the constant arrival of new flavours and toppings, it would be easy to change his mind. Follow Tutti Frutti through social media to learn about in-store frozen yogurt changes and upcoming flavours, and new offerings like TuTea FruTea, a fair trade certified tea line.
Visit Tutti Frutti Frozen Yogurt at 858 16 Ave SW.
Follow Tutti Frutti Frozen Yogurt on Facebook | Follow Tutti Frutti Frozen Yogurt on Twitter