Does anyone else struggle to get through an entire Tuesday without thinking about tacos? The two have really become synonymous with each other, so it makes sense that by Monday's end, you already have tacos on the brain. Lucky for you, there's ton of different taco deals on 17th Ave, and we can enjoy them on a patio, OR for dine-in services as well! Hunker down at one of these Red Mile patios and indulge in half-priced drink specials, tequila, and of course, your chosen taco flavour piled high with spiced meats, salsa, guac and more. 
Ceili's 
Ceili's has put their own spin on this popular Tuesday special with 'Twoonie Tuesdays,' which features $2 tacos and $2 pours of Duke. Yes, you heard that right, only $2 for all the tacos and beer you could dream of. You can also enjoy $5 pints ALL DAY, and access to all of your favourite sport games on their massive 17th Ave patio.   
933-A 17th Avenue SW, Calgary, AB, ceilisdt.ca
Tropical 
Known for its authentic Mexican street food, 6oz margaritas, and its selection of more than 12 different types of tacos, Tropical is a must-try next time you need a Tuesday pick-me-up. Their famous taco guisados are available for $2.50 all day on their 17th Ave patio, alongside happy hour specials on items like their beergarita beach bucket, coronas, pina coladas, and margaritas of course.
1424 17th Ave SW, tropicalon17.com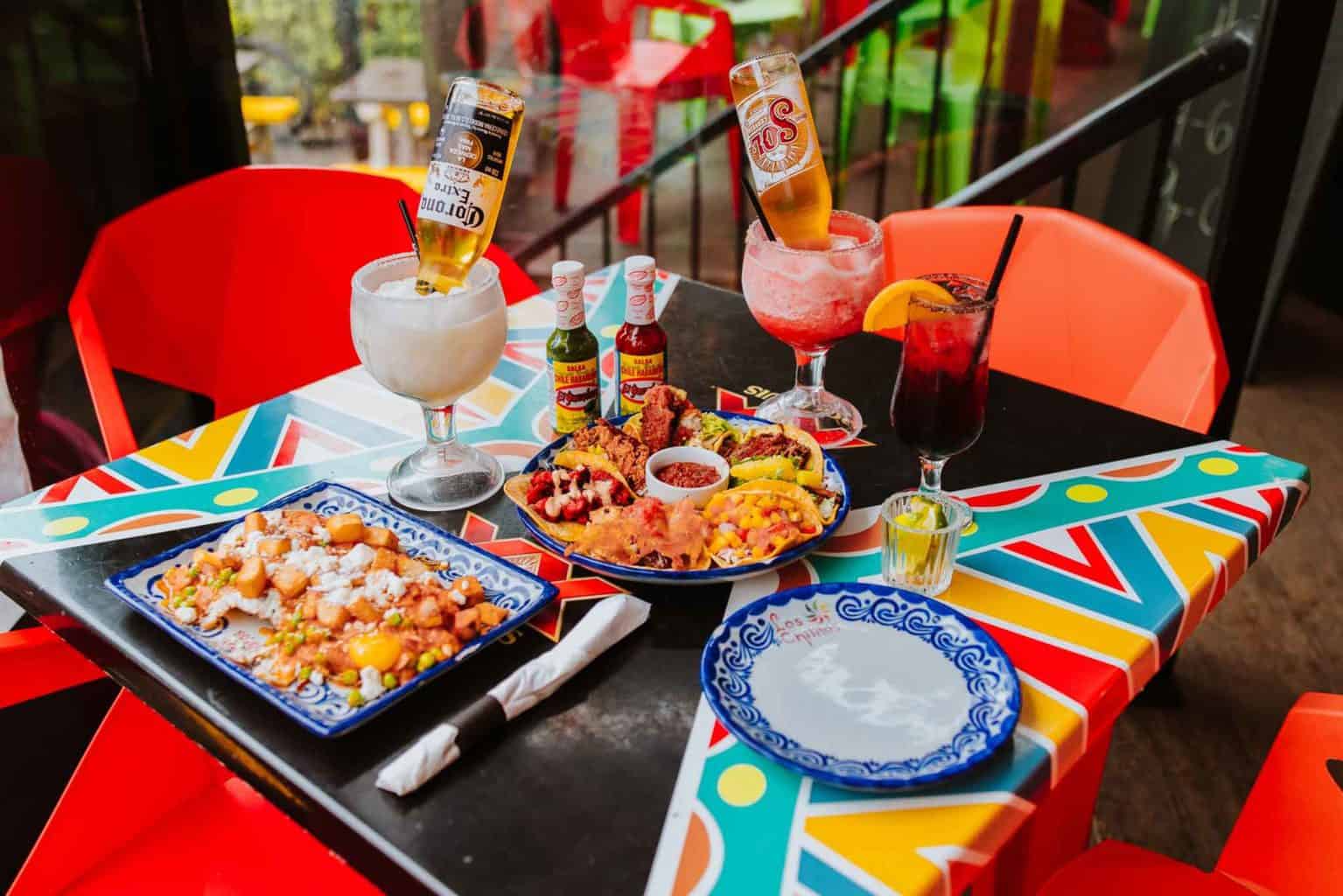 Chilitos Taberna
Check out this Mexican taberna on 17th Ave and immediately feel as though you've been transported to Mexico with their rustic decor, vibrant outdoor patio and hearty, authentic menu items like enchiladas verdes and burritos. Every Tuesday, indulge in their special $3 tacos available in more than 10 different flavours (including a vegan option), and wash them down with happy hour specials like $5 margs or dos equis! 
1309 17th Ave SW, chilitos.ca
Blanco Cantina
There's never a bad time to dig into Blanco's mouthwatering, half-price tacos during their legendary 'Taco Tuesdaze," but there is something so satisfying about enjoying this happy hour deal on their bustling 17th Ave patio, too. Pair tacos loaded with toppings like pulled pork or brisket with Blanco's selection of cervezas, margs or spicy cocktails – or go bold and enjoy half-priced tequila from 3-5 p.m. and 9 p.m. to close, daily. 
723 17th Ave SW, blancocantina.ca
Brown's Mount Royal 
Boogy on down to Browns Social House Mount Royal location, where in addition to their epic daily social hour deals, you can enjoy taco deals each Tuesday and indulge in their crispy chicken or baja fish tacos, sip on dollar-off margs, and relax on their expansive 16th Ave patio overlooking Tomkin's Park. 
880 16 Ave SW #140, brownssocialhouse.com
Tubby Dog
Switch out your go-to Tubby Dog order with a tubby taco every Tuesday at this iconic 17th Ave spot. Choose from options like bean, cheese, chicken, beef or pork and pair it with fresh chips, salsa and guac. Tacos are best served with something cold, so be sure to check out their selection of domestic and imported bottles of beer, liquor and soda. 
103 1022 17th Ave SW, tubbydog.com
Gringo Street 
Enjoy taco specials every Tuesday with a Latin spin on Gringo Street's 17th Ave patio, where you can munch on unconventional taco flavours like cauliflower queso, Peruvian fried tofu, crispy duck and more. Platters are on special for $15, along with $9 arepas, $5 well tequila shots and their Mexicola cocktail for just $10. 
524 17th Ave SW, gringost.com
Heaven 
Heaven's Venezuelan fare is all gluten free, and in addition to authentic eats like empanadas and arepas, you can also enjoy their tacos in flavours like fish, chorizo, grilled shrimp, or their vegan option made with beans and guac. Stop by Heaven every Tuesday and enjoy all-day specials on tacos and beer! 
1013 17th Ave SW, heavengf.com
Don't forget to check out our What's On page to stay up to date on the latest events and happenings on 17th Ave this Summer!
Stalk the latest and greatest on 17th Ave:
Instagram: @17thavesw
Facebook: @17thavesw
Twitter: @17thavesw