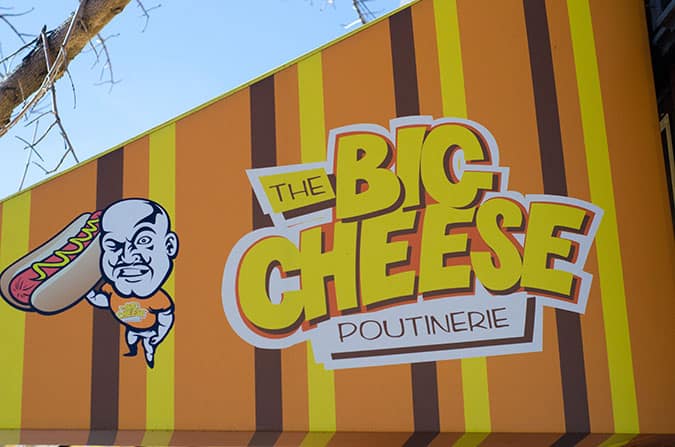 Warmer days and nights are just on the horizon and on 17th Ave that means the beginning of endless street strolling and patio hangs. The perfect all-Canadian snack on the go is poutine and we've got just the place for you to find your perfect poutine.


The Big Cheese Poutinerie (738 17 Avenue SW) boasts they have the largest selection of poutine on the planet, including gluten-free and vegan options so we tried the traditional gluten-free and vegetarian poutine ($6.99). With fresh cut fries and squeaky cheese curds smothered in their secret recipe veggie gravy, it has all the delicious rich taste of a regular poutine with none of the meat or gluten. But, that doesn't mean you can't get all the meat and wheat your heart desires.


With rotating features and favourites like Buffalo Chicken and Scottish Curry, this poutine palace has some very non-traditional pairings that will keep your taste buds from getting bored. Try this months feature – the Sloppy Joe Poutine with green onions and tomatoes and wash it all down with their Root Beer milkshake.


Though their poutine has made them famous, you can also enjoy their screamers, pocket dogs, corn fritters, pickles & pickled eggs, an excellent addition to their poutine offerings. Besides being delicious for a quick lunch, these dishes are very appropriate late-night snacks and thankfully, The Big Cheese is open until 3:30 am on Fridays and Saturdays.
Stay up-to-date on all things The Big Cheese by following them online below:
Facebook: facebook.com/mybigcheese
Twitter: @mybigcheese
Can't get enough poutine? Calgary Poutine Week is just around the corner. Check back for our Poutine Week round up for your guide to poutine heaven on the Ave.