If you haven't sampled the rich and decadent creations that some of our favourite 17th Ave businesses have cooked up for this year's YYC Hot Chocolate Fest, run, don't walk, because the annual event ends this Sunday! This yearly festival takes place each February when Calgarians are undoubtedly in need of warm and tasty pick-me-up, and, the best part is, a portion of the proceeds from each hot chocolate sold are donated to Calgary Meals on Wheels. From an extravagant cinnamon bun chocolate-based drink featuring Irish liqueur to a Vegan orange and chocolate combo, here are a handful of YYC Hot Chocolate fest submissions you can indulge in on 17th Ave this weekend.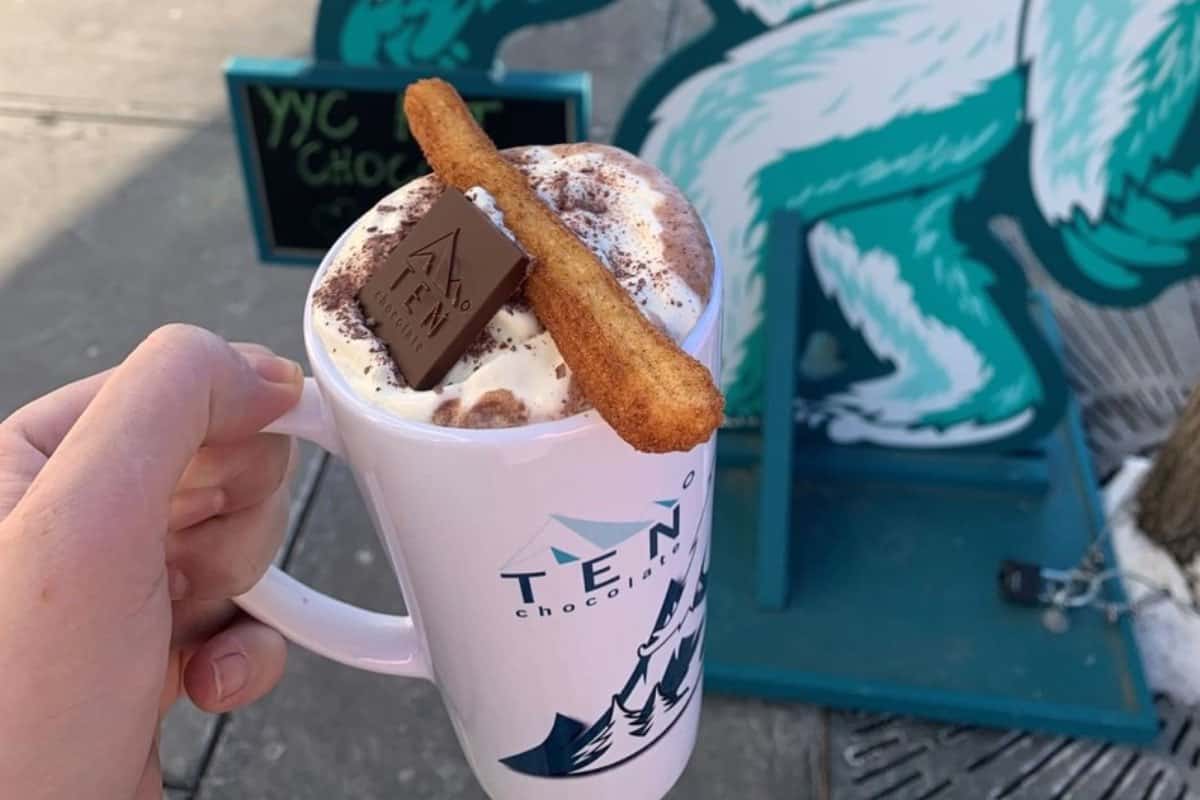 Ten Degrees Chocolate
We've quickly learned that you can expect nothing less than extravagant and delicious from 17th Ave's bean to bar chocolate factory and they certainly brought their A game to this year's YYC Hot Chocolate Fest. Their Cinful hot chocolate is prepared with house-made 50% dark milk cinnamon bun chocolate, and topped with a cream cheese whipped topping, a cinnamon churro and a TEN Degrees cinnamon bun chocolate square. They also have a second must-try hot chocolate with the same delicious ingredients as the first, but with the addition of Irish Cream Liqueur.
818 16 Ave SW, tendegreeschocolate.ca
Caffe Beano
Your favourite local café is serving up a dreamy blend of their homemade chai and Bernard Callebaut's semi-sweet chocolate for this year's YYC Hot Chocolate Fest. Their golden chai hot chocolate is not only delicious, but this decadent cup of chocolatey goodness also features an array of tasty and Instagram-worthy toppings.
1613 9th Street SW, caffebeano.ca
Ollia Macarons & Tea
Pair your favourite French macarons with Ollia's salted caramel hot chocolate, a house-made chocolate blend featuring dark chocolate and caramelized white chocolate. This decadent YYC Hot Chocolate Fest submission is also topped with a creamy salted caramel sauce, whip cream and, yes, you guessed it, a salted caramel macaron. You can also pick up a 'make-at-home' version of this hot chocolate, available online.
810C 16 Ave SW, byollia.com
Black Sheep
Black Sheep's YYC Hot Chocolate Fest submission combines two epic desserts for one delicious beverage: their chocolat chaud façon banana split. This decadent drink is made with strawberry white hot chocolate and topped with vanilla bean whipped cream, milk chocolate sauce, a fresh banana and strawberry chocolate.
140-815 17 Ave SW, black-sheep.ca
The Coup
The Coup's Orange Blossom Bliss combines organic coconut milk, soy-free dark chocolate, orange blossom and clove marshmallow for their scrumptious YYC Hot Chocolate Fest submission. And the best part is, this hot chocolate is also vegan, gluten free, and soy free!
924 17 Ave SW, thecoup.ca
Stalk the latest and greatest on 17th Ave:
Instagram: @17thavesw
Facebook: @17thavesw
Twitter: @17thavesw