Try as we might, we can't deny that fall has arrived. Warmer coats and taller boots are finding their way to the Ave, and though the crisp chill in the air might have you craving comfort food, you don't have to sacrifice the fresh flavours of summer just yet. As we all start to settle in for the cold months ahead, the fusion Vietnamese cuisine of Watercress Express (1322 17 Ave S.W.) is just the answer we're looking for.

Chef David Lam has been working in restaurants all his life, and is committed to bringing something different to traditional Vietnamese food. "You will find familiar favourites on our menu, but our passion is in the fusion of ingredients, which means our flavours are a bit bolder." The atmosphere of Watercress Express is casual and calming – the delicious dishes are beautifully presented, and they can be savoured on the spot or taken to-go.


We decided to dig in with some starters. The special: spicy grilled bread with dry pork ($6.50), and the popular: a lemongrass chicken fresh rice wrap ($7.75)


The rice wrap delighted and surprised us with the unexpected crunch of green apple and fresh herbs.
The Sate Grilled Shrimp Vermicelli Bowl ($13) was calling our name, and was elegantly served with peanuts, confit onion, fried shallots and picked mixed salad.


Though Watercress Express offers delicious value in a casual setting, they truly take pride in the presentation of their dishes, allowing you to see the perfectly paired ingredients and appreciate their passion and dedication to flavour.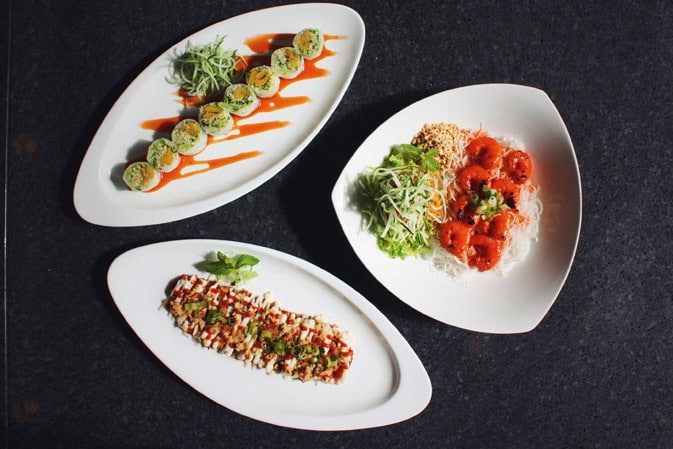 If you're ready to warm up with something fiery, stop in at Watercress Express and savour their twist on fall's new comfort food.
Stay up-to-date on all things Watercress Express by following them online below.
Facebook: facebook.com/WatercressExpressInc