It's the same every year – as soon as August rolls around, we all go into panic mode, and try to squeeze out every last ounce of summer sun that we can before September hits. This year is no different, and we only have a limited number of days before school is back in session, and the cold weather starts to roll in. Here is a list of suggestions to get in your summer fix on 17th ave before Fall creeps up on us.
Cool off with a sweet treat
Whether you've been lucky enough to try one of their indulgent treats, or you've just enviously watched as someone walked by you with a massive cone, draped in decadent toppings, Made By Marcus is a summer must-have. They have their crowd pleasing seasonal flavours such as Double Cookies and Cream, or Sea Salt & Goat Milk Caramel, but they also offer rotating seasonal flavours, and vegan flavours.
Find out more at madebymarcus.ca
Check out one of 17th Ave's newest residents, and your soon to be newest addiction. Don't Yell At Me offers a selection of coffee, creative sparkling water, fresh milk tea, and seasonal specials, sure to give you that much needed pick me up on a hot summer day. They also offer a selection of TeaBubz Crepe Cakes.
Find out more at dyam-ab.ca
Solo Shopping Day
We won't call this back to school shopping, because with less than a month left of summer, that is just sad. Instead, we'll call this one last day to spoil yourself before the school year rolls around and Kit and Ace is the perfect place to do that. Find functional, comfortable styles that work for any occasion – from your morning bike commute, to the office, to drinks after work. Check out their assortment of casual and dress wear, all made with fabrics with high performing qualities, that can withstand weather, sweat and active lifestyles.
One of the best ways to incorporate some new and unique pieces into your wardrobe is consignment shopping, and Velour Clothing Exchange has a vast selection of both vintage and modern pieces that will make any outfit stand out. Browse through their assortment of dresses, jackets, jeans, shoes, accessories, sunglasses and more, scoring awesome pieces and designer brands, all for an affordable price.
Mom and dad date night
What is summer without at least one good barbecue? If you have yet to indulge in some juicy, fall off the bone ribs, or cornbread, head to Comery Block, where they serve a West-Tennessee inspired menu and offer an extensive list of whiskey. Enjoy variations of smoked meats such as briskey or pork ribs, served with sides like collard greens and corn on the cob. And then wash it all down with a Double Smoked Old Fashion while you relish in the summer sun on their massive 17th Ave patio.
Find out more at comeryblock.com
Travel may still be restricted, but a trip to Simply Irie will transport you to the Carribean with their delectable and authentic carribean dishes. This family-run business is owned by Patterson and Fay Bruney have a combined 40 years in the service and management industry, with Patterson hailing from Dominincan – ensuring that you have a genuine, carribean dining experience. They also have a newly renovated patio, so you can sit in the sun, eat their mouth-watering jerk chicken, close your eyes and pretend your on a beach somewhere.
Find out more at simplyirie.ca
Lulu Bar has made a pretty good first impression on Calgarians. After just opening in April 2019, they have already been named to Open Table's Top 100 Restaurants in Calgary, and Avenue Magazine's Best New Restaurant. Perfect for a date night before the chaos of back to school ensures, this trendy spot, located in the heart of 17th Ave features a variety of small plates featuring meat, fish and veg, as well as distinctive dishes like spam and beefs tongue. A trip to this modern restaurant isn't complete without one of their signature cocktails.
Find out more at lulubar.ca
Fun For the Entire Family
Find everything from unique jewellery to paintings,  sculptures to functional glass pieces and more, all from some of Alberta's best local artists at Passion for Glass. Opened by renowned artist, Anna Bilek, you can browse distinctive art or stock up on supplies and tools for creating, as well as take lessons – available for all levels: beginner to professional. The perfect activity if you're looking for a unique way to round out your summer.
Find out more at passionforglass.ca
Treat the kids for a day of fun at PinBar, where the +20 Pinball machines and classic arcade games will keep the kids, and parents entertained throughout the day. Open to minors until 8 p.m. Sunday to Wednesday, and until 4 p.m. from Thursday to Saturday, PinBar has an extensive food menu with kid friendly options like homemade pizza pops, sandwiches, poutine and more. They also have a variety of beers on tap, highballs and cocktails to keep mom and dad happy.
Find out more at pinbaryyc.com
Pudding Yarn has all of your knitting needs including yarn, needles, and knitting accessories for the more ambitious people who tried to learn a new skill like knitting while in quarantine – or if you're just really cool and have known how to knit all along. If your new to knitting, they also offer lessons and patterns to follow through their website. Set a goal for the end of the summer to finish that scarf you started in April, and have it ready for back to school with supplies from Pudding Yarn.
Find out more at puddingyarn.com
Grab and Go for Riverside Hangs
17th Ave is just a hop skip and a jump away from the Elbow River, and also has plenty of places that offer take out so you can grab your grub and post up by the river for the day.
Poutine may have been invented in Quebec, but this 17th Ave shop has pretty much nailed it. They've got traditional poutine, pork poutine, chicken poutine, a vegetarian option, and they even have a dessert poutine. There really never is a bad time for fries smothered in gravy and cheese curds.
Find out more at mybigcheese.com
The menu and ambiance of Una has become a local favourite, but they also have Una takeaway next door. Grab and go with some of your favourite menu items like their beltline pizza featuring double smoked bacon, fennel sausage, smoked mozzarella, maple syrup or their kale caesar salad made with organic kale, a hard-boiled egg, garlic panko, crisp prosciutto, and pecorino romano.
Find out more at unatakeaway.com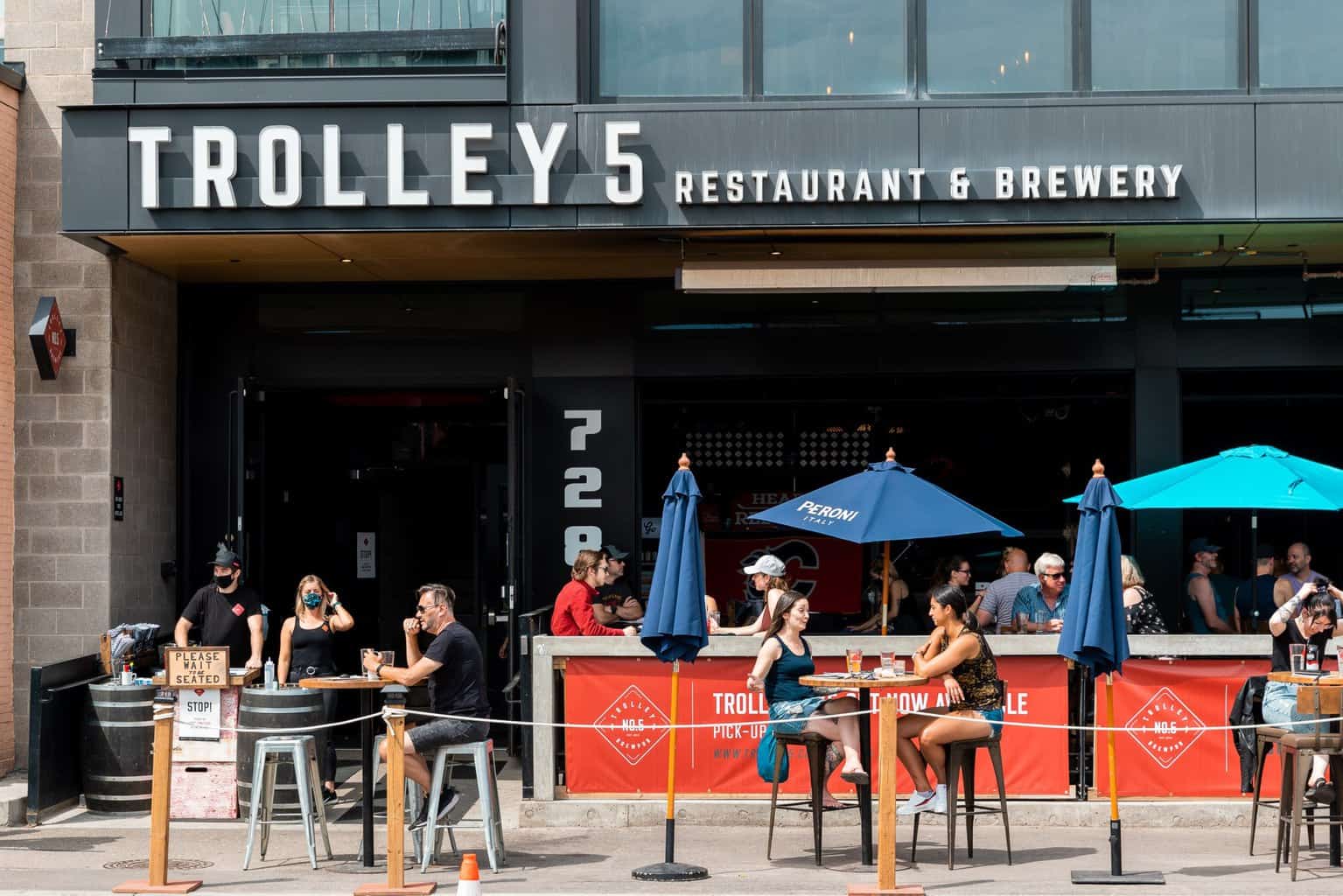 And don't forget to check out our list of 17th Ave Patios, because summer isn't complete without a drink on a patio.
Stalk the latest and greatest on 17th Ave:
Instagram: @17thavesw
Facebook: @17thavesw
Twitter: @17thavesw