Patio Hopping on 17th Ave!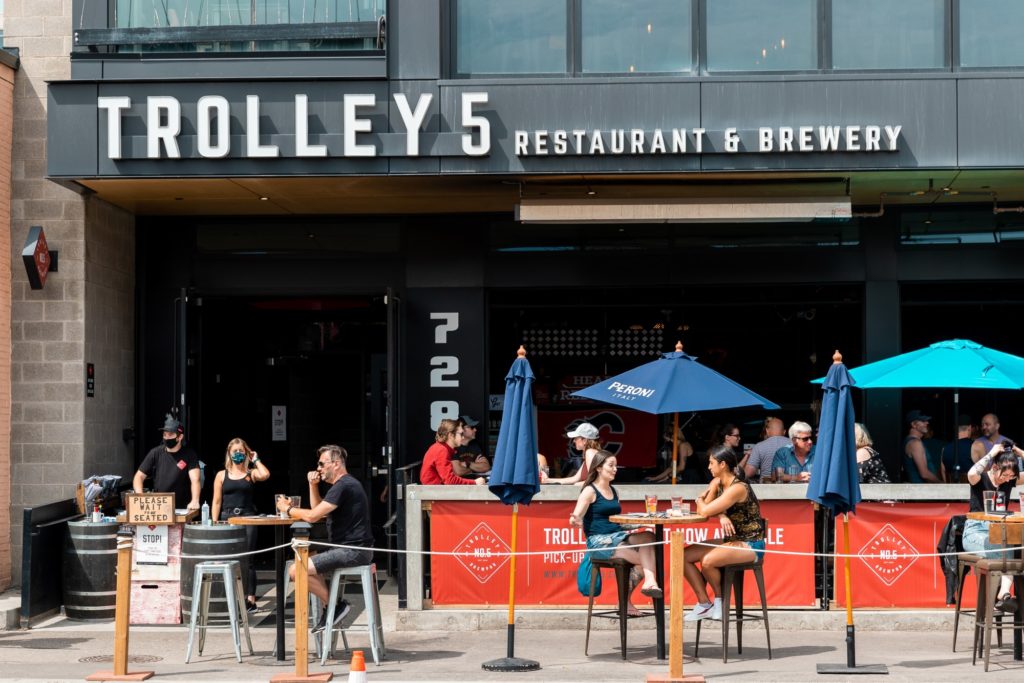 Patio season is here! Now's the time to try all of 17th Avenue's delicious cocktails and different cuisines. Whatever food mood you're in, we've got you covered. Now, time to start patio hopping!
Trolley 5 Brewpub – House-brewed beers, pizza, burgers, BBQ AND the windows on their second floor open up giving you a two storey patio feel. 
National on 17th – A lot of beer and a huge patio, need we say more?
Ship and Anchor – Is it 17th Ave without the Ship and Anchor? A casual bar, with sports on the TV and occasional live music. And of course they have a patio!
Model Milk – Set up right in Calgary's historic dairy building offering locally sourced eats. Their patio? Absolutely adorable. 
Una Pizza + Wine – Their pizza is to die for. If you haven't been there you NEED to go. Nothing beats great pizza, a bottle of wine and a patio.
Comery Block – Guaranteed meat sweats. West – Tennessee inspired BBQ and bourbon joint. 
Blanco – A fashionable cantina with a tequila bar, Tex-Mex plates and a patio with vacation vibes.
Peppinos Gourmet Foods – A family operated Italian eatery with the BEST Italian subs in Calgary. Enjoy your sandwich out in the sun on their cute patio!
Browns Socialhouse – You'll get a bit of everything with upscale casual dining. Sports, Brunch, Dinner, Lunch and a fabulous patio that's dog-friendly.
Gringo Street – Yummy Latin street food with a twist and margaritas.. A lot of margaritas. 
Cleaver – A unique spot with creative small plates, sliders, prime meats and the most delicious cocktails ever. 
Calcutta Cricket Club – Familiar Indian dishes and cocktails in a stylish, lively atmosphere and their patio is bright and colorful. To be fair the entire place is gorgeous.
Pigeon Hole – Warm, rustic wine bar with cocktails and small plates on flea market dishes and a cozy patio.
Ceili's Irish Modern Irish Pub – A casual restaurant and bar with a huge patio and a great place to grab a beer after work.
Lulu Bar – a unique chef driven bar right in the heart of 17th Ave. A colorful patio and an instagrammable interior. 
Analog Coffee – 17th Ave's iconic coffee shop. Nothing beats enjoying quality coffee outside on a nice sunny day.
Chilitos Taberna – A relaxed cantina with a patio and full bar serving all of your favourite Mexican eats.
One Night Stan's – A bar room and divery with a low-key and relaxed atmosphere. Oh and their patio is dog friendly!
Lounge Eighteen – Prohibition-inspired spot offering unique cocktails, global bites and shisha.
Trio Restaurant and Cafe – Chill vibes and amazing Mediterranean and Egyptian food that's guaranteed to bring a smile to your face.
Philosafy Coffee – A stylish coffee shop and freshly ground coffee on the inside and adorable patio on the outside.
Watchman's Pub & Eatery – Classic pub with a huge patio AND trivia night, live bands and karaoke. You might end up singing a song or two after a few drinks.
Las Canarias – Casual bar and eatery with traditional Spanish dishes, tapas, sangria & patio seating.
Living Room – A chic spot in a small house offering upscale French and Italian cuisine with tasting menus and fondue. Mmm fondue. 
Clive Burger – Retro vibes and outdoor seating offering super tasty and eco-friendly burgers, beer and shakes.
Jamesons Irish Pubs – Modern, Celtic themed pub. Great spot to grab a casual bite and a beer. 
Via Cibo – Fast casual restaurant serving the best Italian street foods.
Universe Restaurant – Open for breakfast and lunch, you'll find Montreal style pizza, smoked meat, poutine and ribs.
Simply Irie – Family owned business and some of the BEST Carribean cuisine you'll find in Calgary. 
Tropical on 17th – Buzzy, narrow hideaway with Latin American eats, happy hour with GIANT cocktails and live music. 
Chakalaka – 17th Ave's newest resident serving globally-inspired eats and drinks with a rooftop patio overlooking The Red Mile.
Wow you're going to be busy bouncing around 17th Ave this spring! Who're we kidding we'll be out and about until it starts to snow again. Check out our What's On page to stay up to date on the latest events on 17th Ave.
Stalk the latest and greatest on 17th Ave:
Instagram: @17thavesw
Facebook: @17thavesw
Twitter: @17thavesw