If that hair's getting a little shaggy or the beards grown a little long, treat yourself to the barber experience on 17th Ave, where you can find a number of different skilled barbers offering services such as men's cuts, luxury deluxe shaves and more. Men need that self-care time, too! 

King & Co Barber Studio 
King & Co Barber studio offers a myriad of services including their signature "king's cut," zero fades, beard tims and line up, buzz cuts, hot shaves and more. They also offer cuts for kids 13 and under, also known as their "little king's cut," and for people aged +65 and over – the "wise king's cut". 
#9, 718 17 Ave SW 2nd Floor, kingampcobarberstudio.setmore.com
Social Cut & Shave 
The talented team of barbers and stylists at Social Cut & Shave bring an expertise of hair cutting and styling to their 17th Ave barber shop, where they provide services including haircuts, beard trims, full shaves and chemical services such as bleach and tone or highlights. They also offer scalp treatments, express services and kids cuts. 
325 17th Ave SW, socialcutandshave.com
Pomme Haircut 
Pomme Haircut opened last summer by owner and hair stylist, Pomme, who has spent more than 12 years cutting hair in Calgary. He takes in clients from all walks of life including men, women and children, which is why he also offers such an extensive list of services. Just two blocks away from 17th Ave, Pomme Haircut's services include mens haircuts, kids haircuts, beard trim and lineup, two and three strand hair twists, boz braids and more. 
1330 15th Ave SW, pommehaircut.com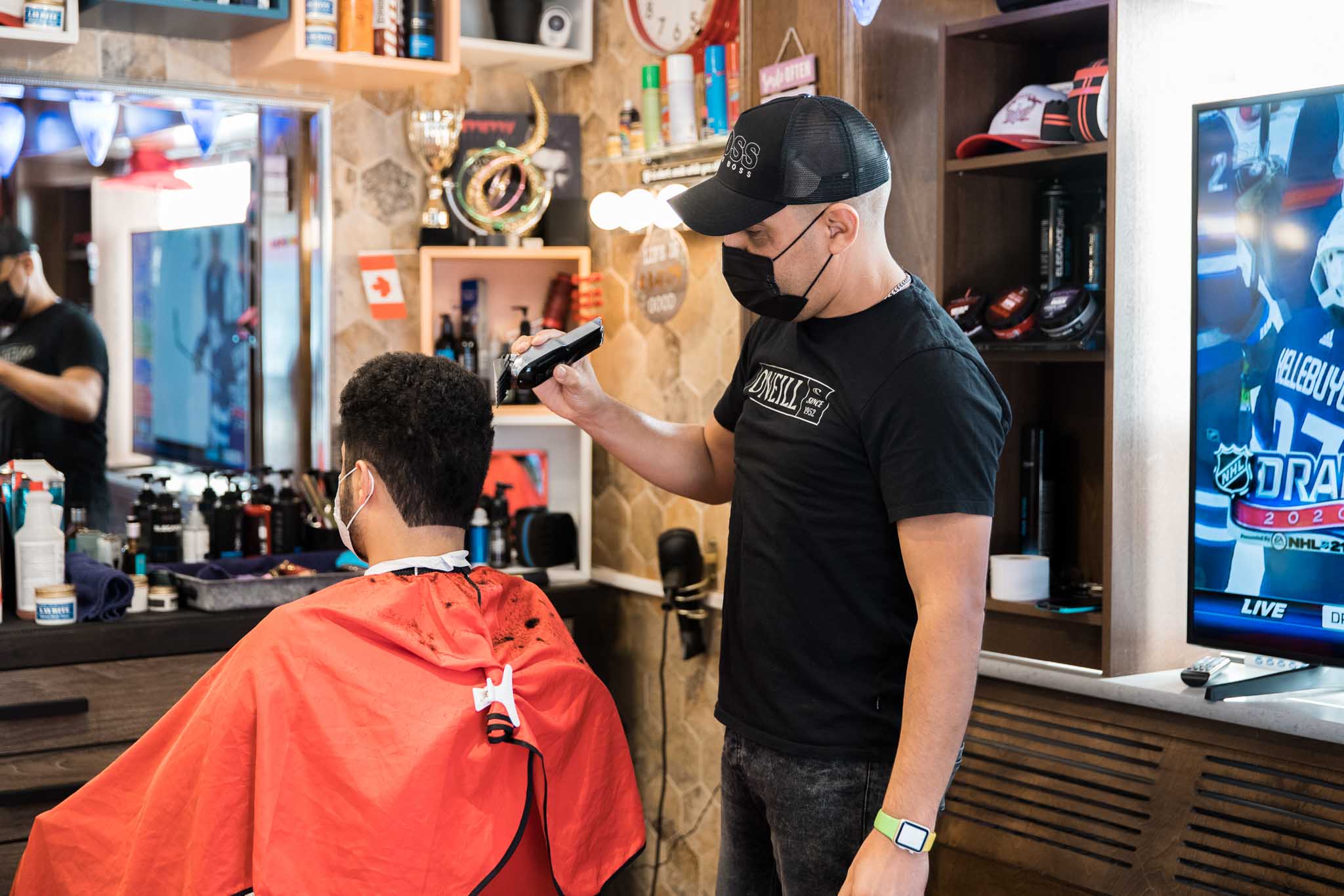 Magnum Barber Shop 
Treat yourself to a deluxe hot shave at Magnum Barber Shop before your next hair appointment, where you'll be pampered with facial steamer, hot towels, and pre-shave oil to prepare your skin prior for the straight-edge blade shave. Follow up your luxurious shave with zero and skin fade or regular haircuts from their talented and experienced barbers. 
1019 17th Ave SW, magnumbarbershop.ca
Barber Culture 
Known as home to the "get laid fade," Barber Culture prides itself on their ability to familiarize themselves with the intricacies of your hair and provide you with exactly the style you want for each visit. Their team consists of barbers and hair stylists with a deep knowledge, experience and passion for the art of hair styling, and in addition to the more traditional services such as haircuts and beard trims, they also offer hot shaves and designs. 
1520 6 St SW, barberculture.ca
Cannibale Barber Shop 
Cannibale Barber Shop boasts a skillful and experienced team of barbers and hair stylists, including owner John Radu, who opened Cannibale in 2014, and also travels through North America as an educator in barbering and hair styling, This trendy 17th Ave barbershop offers cuts, shaves, deluxe beard trims complete with beard oils, balsam and aftershave, and more. Find them in their shared space with Gravity Pope 7 days a week. 
1126 17th Ave SW, cannibale.ca
Stalk the latest and greatest on 17th Ave:
Instagram: @17thavesw
Facebook: @17thavesw
Twitter: @17thavesw