Whether we like it or not, Fall is in full swing and it's time to start shopping for cooler trends. This week we found Fall fashion inspiration at Leo Boutique, where owner Jon shared some of his favourite looks for the season. First up is a killer silk & leather combo by L.A.M.B.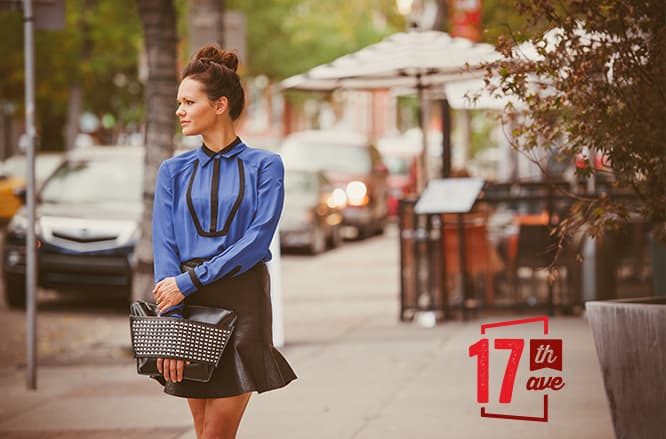 While Fall commonly brings neutral fashion hues and though Pantone, world-renowned authority on colour, named Emerald as the colour of the year, we choose Cobalt Blue. This electric colour will make a splash in your wardrobe, especially on this tailored Tuxedo-style blouse. Nothing ordinary about that. Jon suggests wearing your hair in a top knot to accentuate the high-buttoned style.
A leather skirt perfectly contrasts this soft silk top. Peplum styling adds a feminine touch while the texturized leather and plaid interior detailing give it a hint of punk. Finish the look with the black & white clutch and somewhere, Gwen Stefani is smiling.
The Look: Buttoned Blouse Cobalt ($250). Leather Ruffle Skirt ($415). Agatha Black/White Bag ($325). All by L.A.M.B.
If you only add one new outfit to your Fall collection this year, choose one that's timeless. Animal prints have always had staying power but a bold pattern, sculpted cut and simple skirt flare take this Jacquard patterned dress to another level.  Add the classic leather/wool coat with A-line silhouette, and you've got a style made for easy layering and perfect in cooler weather.
Ronny Kobo is a New York fashion designer and creator of the eponymous brand Torn. Her FW13 collection focuses on form fitting dresses and knits with peplum detailing featured prominently.
The Look: Maya Jacquard Dress by Torn ($398) & Mackage Cornalia Black Draped Wool Coat ($650).
Finally, the Sonora Tolovana dress from The Portland Collection flatters any age and any shape.  This show stopping textile is made from 100% wool with an open boat neckline, 3/4 length sleeves, chevron darting at the waist seam and deep front pockets.
With the Portland Collection, Pendleton Woolen Mills brought on 3 young Portland designers to delve into the companies 103 year history and design a modern collection using the original Pendleton Woolen fabrics and patterns. This collection is unique in that it is 100% made at Pendleton Woolen Mills in the USA.
We love this dress for its flattering fit, independent design and iconic pattern.
The Look: Sonora Tolovana dress by The Portland Collection ($430). Purse by Rebecca Minkoff ($375).
Jewellery wasn't part of the original plan for this feature but on our way out we were smitten by this gorgeous necklace from Charlotte Hosten. The Montreal jewelry designer is known for mixing textiles with beadwork and vintage items. COLLIER GAYATRI ($255).
You can find these and many more styles for Fall at Leo Boutique (810b 16th Ave SW Calgary) or at leoboutique.com.
Want one of these outfits? Watch BT from September 11 through to October 2 for your chance win a $500 Shopping spree on 17th Avenue SW with Jill Belland. Find out more at BT Calgary.