Summer is just around the corner, and we're here to make sure you're prepared! Head to 17th Ave where you can check out some of the newest Red Mile businesses, scope out your favourite shops for summer styles and trendy looks, as well as access tons of awesome ongoing deals and promotions. 
New to the Ave
Mirra Masa 
17th Ave is the new home to Mirra Masa, a trendy women's fashion boutique selling sleek looks and unique women's clothing and accessories. They have new spring and summer styles arriving daily, so be sure to pop into their newly opened Red Mile spot to say hello and shop. 
911 17 Ave SW, mirra-masa.com
State Baby Shop 
State Baby Shop opened its adorable 17th Ave location in early 2021, and offers up a wide selection of baby and kids gear, accessories, clothing, decor and more. Find clothes for your kiddos aged newborn to twelve, as well as an assortment of locally-made accessories and decor suited for mama at their 17th Ave location. 
1230 17 Ave SW Unit 4, second floor, state-baby.com
Via Convenience 
Via Convenience is 17th Ave's newest convenience store with a wide selection of local products ranging from handmade candles to locally roasted coffee, gourmet Canadian-made chocolate, sustainably sourced honey and more. You can also indulge in familiar convenient snacks like soft serve ice cream or slurpees at this funky 17th Ave spot. 
624 17 Ave SW, (403) 437-3488
Spring and Summer Styles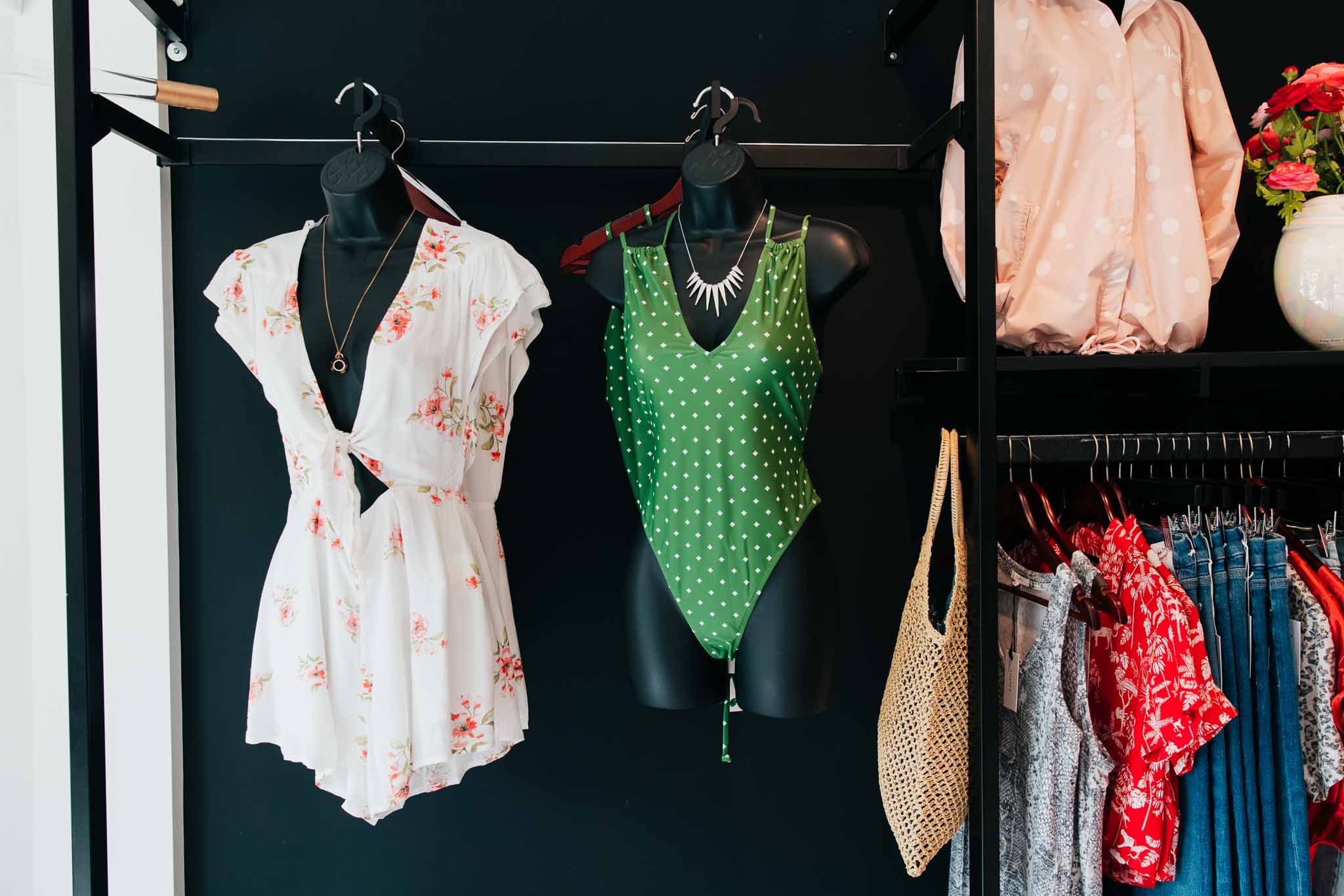 Bamboo Ballroom 
Be prepared for all your Summer plans at Bamboo Ballroom, where they have new seasonal styles arriving daily, and tons of fresh looks from brands like Free People, Levis and Gentle Fawn, Find the perfect flowy dress for picnics in the park, or get yourself a pair of staple jean shorts. No matter the occasion, you'll find the perfect look for it at this local favourite boutique. 
814 16th Ave SW, bambooballroom.com
Era Style Loft
From functional jumpsuits to trendy sandals, Era Style Loft has all of the season's latest trends and looks you've been eager to get your hands on. This upscale 17th Ave boutique has tons of new arrivals from brands like Agolde and Citizens of Humanity, and an assortment of dresses, blouses, accessories and shoes. Pop into their 17th Ave location to check them out, or shop your favourite looks online below. 
917 17 Ave SW, erastyleloft.com
Kate Hewko 
The Spring and Summer seasons call for bright colours, vibrant patterns and one-of-a-kind looks, and there's no better place to find these essentials than at Kate Hewko's concept store. Kate's newest arrivals include trendy seasonal pieces like kimonos, jumpsuits and skirts, perfect for all of your Summer outings. Head to Kate's 17th Ave shop to browse these inimitable styles, or follow the fashion entrepreneur on her social media channels where she showcases and styles all of her latest looks. 
#1, 908 17th Ave SW, katehewko.com
HG Vintage 
HG Vintage is bringing in tons of summertime essentials like retro denim and cut off shorts, as well as their always popular vintage tees, sports jerseys and more for the season. You can also find a selection of secondhand summer dresses perfect for all the warm days ahead. 
720 17th Ave SW, hgvintage.com
Fjallraven 
If your summer plans include lots of adventurous pursuits and outdoor time, head to Fjallraven on 17th Ave to make sure you're prepared. Their new spring and summer arrivals include functional, lightweight gear to keep you protected from the elements while in the great outdoors. Find trekking shirts, zip off trousers, lightweight jackets and more, available in store and online. 
 815 17 Ave SW, fjallraven.com
Ongoing Deals and Promotions
Kit and Ace 
Out with the old, in with the new! Kit and Ace is having a massive sale right now on tons of popular men and women's styles and essentials. Load up on merino wool sweaters, popular trouser styles, and other on-the-move essentials at up to 70% off! While you're at it, don't forget to check out all their new spring and summer arrivals including shorts, dresses, rompers and more. 
800 16 Ave SW, kitandace.com
Arc'Teryx
Gear up for all of your outdoor adventures this Summer at Arc'Teryx, where you can find tons of function gear such as waterproof jackets, lightweight shift dresses and packable hoodies. This popular outerwear brand is also hosting an Outer Peace Challenge on Strava, where if you participate in the required 3 outdoor sessions a week until June 6th, you'll gain access to a discount code to redeem at their store! 
815 17 Ave SW unit 150, arcteryx.com
Blondie boutique
In addition to tons of new spring and summer styles arriving regularly at this popular 17th Ave boutique, Blondie is also hosting a huge sale with up to 80% off on select items. Find seasonal essentials like dresses, skirts and tanks, as well as graphic tees, tie dye and more. 
#101 – 1019 17 Ave SW, blondieboutique.com
Stalk the latest and greatest on 17th Ave:
Instagram: @17thavesw
Facebook: @17thavesw
Twitter: @17thavesw