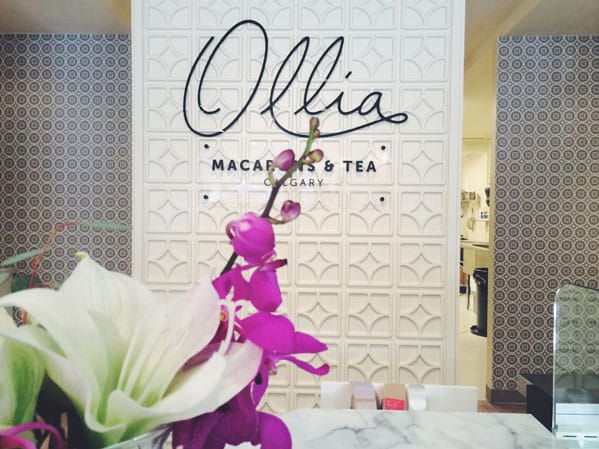 Parisian style doesn't come easily – there is a natural elegance and grace associated with all things French and confections are no exception. Ollia (810C 16 Ave SW) a newly opened macaron shop is a sweet gem tucked on the avenue, designed by the brilliant Bethany Pearce from Capstone Dwellings. Owners David and Lindsay Rousseau have lived all over the world, from London to Lima, but always hoped to find a place with a flourishing food and culture scene and the support to back it up. Lindsay describes Calgary as "a total gem" and the couple adores the collaborative nature of the local business community. She says with passion "Calgary is cool, but it doesn't know yet how cool it is" — leave it to them to show us how it's done.
This power couple packs a punch: David grew up in the kitchen in France helping his parents and grandparents cook and bake. They share that it was not until they were in Victoria, BC, under the guidance of a very talented macaronier chef that David truly honed his skills in the art of macaron. And lovely Lindsay is an exceptional Maitre 'D and the first face you will recognize through the door.
The inspiration for their fresh macaron flavours and excellent service comes from true lived in experience and travel, but they are the first to tell you that being locally minded is important. Lindsay tells us "our eggs come from happy free range chickens on an Alberta farm, our honey is from our own beehive (Maple Greenview), our whiskey comes from Alberta distilleries down the road [and] we have a greenhouse that is going to start growing herbs and spices for us!'

With dozens of macaron flavours to choose from, we asked for a little help navigating their collection. Some highlights include: salted caramel, lavender and honey, matcha guava and their deep purple fig and balsamic macaron. They also offer a unique selection of savoury macarons – we can't wait to try the blue cheese pear and pecan. They also offer their own blend of teas that are 100% organic and fairly sourced. There are no limits with Ollia when it comes to combinations.
The secret to their inevitable success lies in their name. Ollia is a take on a family name from generations ago in France and also shares roots with their son's name. Lindsay says "to us it represents the past and the future." And we are especially glad that Ollia's macarons are a part of our present.
Stay up to date on all things Ollia by following them online below:
Facebook: facebook.com/ByOllia
Twitter: @ByOllia
Instagram: @ByOllia