You're probably following @asim_overstands on Instagram, and rightfully so. Browsing his IG grid or seeing his photo displayed on the roof of Kit and Ace, Asim is best known for his vibrant, honest portraiture and stunning captures of places on his travels and right here at home. As such, he has built quite the reputation as one of Calgary's go-to street photographers. This month we catch up with Asim to see what he's been up to and what inspires him. You might even find him grabbing a coffee, shooting, or hanging out with his beautiful family along the Ave.
What gets you up in the morning?
Daughter. Coffee. Work.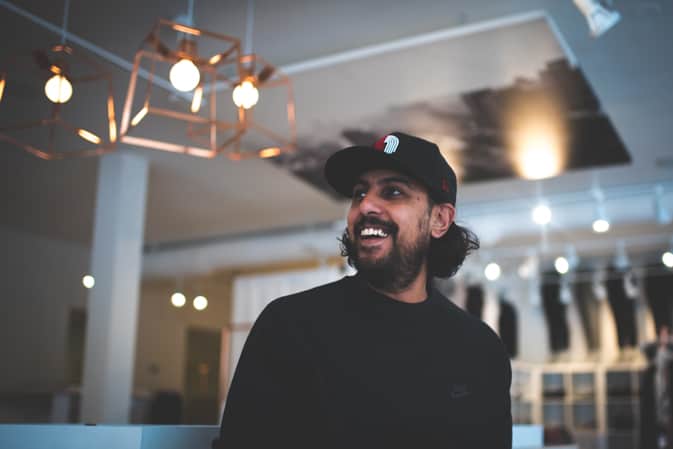 How did you get into photography?
I have always been interested in being behind the lens, but it was  movies and commercials that had my interest. One day I was bored after work and I downloaded this app called Instagram on my brand new iPhone4. I was so happy because I didn't know how to use Photoshop or Lightroom at the time, and this little startup app had allowed me to add a filter at the ease of clicking a button?… I've been hooked since.


What keeps you inspired?
Honestly, it's others around me getting better and succeeding. I always believe I can be better and I've never been satisfied with my work, so that pushes my limits and makes me diversify my styles. I try to learn as much as I can to get an upper edge. Perhaps it is cliché, but travel is something that inspires me so much.


Do you get any of your 'to-do's' done on 17th?
I get an americano at Beano almost every day. It is the BEST in the city, period.
What is your favourite thing about the Ave?
It attracts all segments and demographics of each major market. I'm shopping or sitting having dinner beside suits, boomers, and teens.


Favourite place to shop?
Less 17 and gravitypope are my fave retail spots I hit up.
Any 17th Ave hidden gems?
Janice Beaton Cheese Shop has such underrated gourmet grilled cheese sandwiches. Not too heavy, always thought out, and I can grab a glass of Pinot Noir to make my lunch that much better.


What would you like to see on 17th in the future?
Dedicated parking and a little bit of culture…more specifically, more mom-and-pop, small business shops. 17th is starting to become one of those areas where only big ticket businesses are flowing and may in-time position itself to be a bit too much like Robson St. in Vancouver. There used to always be a little bit of "weird" on 17th. The best neighbourhoods in my favourite cities have signs of gentrification, but still haven't committed 100%.
Stay up-to-date on all things Asim Overstands and follow him online below:
Instagram: @asim_overstands
Twitter: Asim_Overstands
Facebook: facebook.com/AsimOverstands