Dan Northfield is pretty much a 17th Ave fixture, and has spent many hours along the avenue. He moved to Calgary 24 years ago, where he could often be found enjoying a pint or two at The Ship & Anchor. Today, his work as Operating Partner of Local 510 keeps him pretty busy, but he's active in his community and passionate about the culture of his city. Dan volunteers his time across Calgary, as a member of the Board of Directors of the 17th Ave BRZ as well as with Sled Island. We caught up with Dan as he shared some of his 17th Ave favourites, old and new.
Describe your perfect day on 17th:
As much as I love spending time on Local 510's amazing patio on a day off, I often try some to enjoy some of the other amazing options 17th has to offer. A skim milk latte from Caffe Beano is always a good start! My jeans are always purchased from Leo and my shoes from Gravity Pope, you can never go wrong at either place. Checking in with Zev at Less 17 can be a dangerous choice on your wallet. My favourite stop on 17th is Sloth Records. I always have to hide the receipt from my wife after a visit.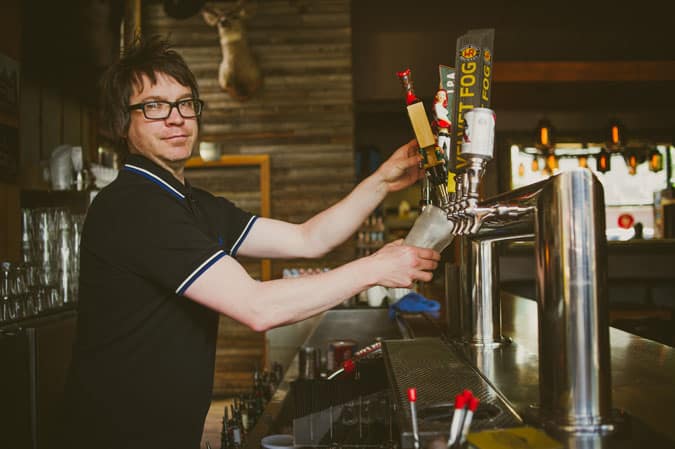 Best spot to grab a bite?
Eating out on 17th Ave is great, the options are limitless and there's something for every mood. One of my guilty pleasures is a hot dog and Tubby Dog will always satisfy, cheap beers and great tunes included. I have always been a BIG fan of CoDo Vietnamese for pho, rainy days are the best! Clive Burger milkshakes are amazing, they will even add a little booze to it if you ask!
The sun is out on 17th. Where might we find you?
Besides the Local 510 patio, the next two worth wasting a few hours on are National 17 or the Ship and Anchor. Both have a great beer selection, a good menu and the people watching/meeting is perfect. Calgary summers are short, but Calgarians know how to really take advantage of them. 17th Ave is the perfect example of that.
Best place for a night out?
After spending all my money at Sloth records I start to feel a little guilty, now it's time to take my wife out for dinner. Tubby Dog doesn't always cut it, taking her to work for dinner doesn't go over well either. One of my favourite people that I've had the experience of working with is Justin Leboe, and Model Milk and Pigeonhole are some of my favourites. Great looking rooms, fabulous food and a vinyl soundtrack, so good! Anju seems to be a regular hot spot for me also, the guys always have something new and exciting on the menu. Although finding GREAT Mexican in Canada can be a challenge, we seem to do pretty good at Los Chilitos, not fancy but fun.
What's up next for Local 510?
Right now at Local 510 we have completely covered our parking lot. We've added a stage and hosted bands during Sled Island from across the country, as well as some great local acts. After Sled Island, the tent will continue to stand and we will host more great acts like Broken Water from Olympia, Washington, Rich Aucoin from Halifax, Daniel Wesley from Vancouver and more. Serving beer out of ice and burgers hot of the grill.
You've been on the avenue for a while. What are your hopes for the future of 17th?
During my time in Calgary I have seen 17th go through plenty of changes – some good, some sad. Calgary is becoming a major city in Canada. These are exciting times. Hopefully we can keep some balance between function and culture on the avenue, keeping an honest identity.
Stay up-to-date on all things Local 510 by following them online below:
Instagram: @Local510
Facebook: facebook.com/groups/109614596234/
Twitter: @Local510