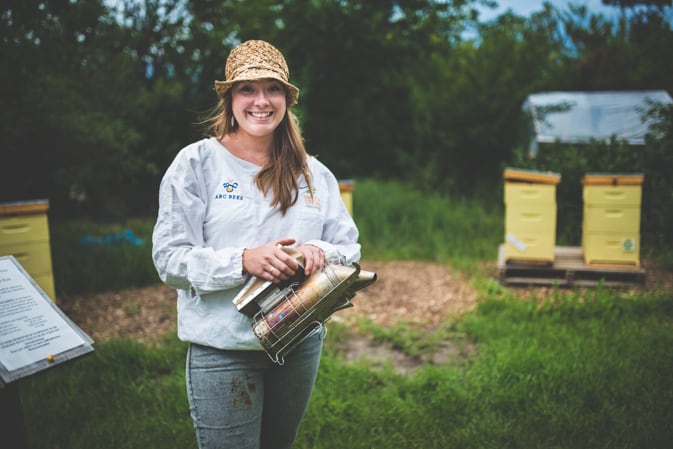 The star of UNA's 4-maggi pizza, Ox & Angela's 'Pan de Masa Madre' Sourdough, or The Coup's savoury iron board waffles is arguably the freshest honey used in these dishes. When these fan favorite 17th Ave restaurants tote making every effort to source local, they mean it – down to having bee hives right here in our city. This month we take a little field trip to visit the hives that supply such delicious honey to these restaurants on the Ave and get to know Eliese Watson from ABC Bees who ensures the bees are taken care of and the honey is top notch. Learn more about local beekeeper Eliese, what she loves about 17th Ave, and the unique partnership ABC Bees has with many of the places we love.
Tell us a bit about yourself…what gets you up in the morning?
Well, what gets me up in the morning is my 1 year old little girl, Rosie. She wakes me up with a big smile and an adventurist gleam in her eyes. Otherwise, I spend most of my days juggling hive inspection, public and private bee tours, meetings, park play dates, and if I'm lucky, some time to visit friends.


How did ABC Bees come to be?
In 2010 I started ABC Bees after receiving a small grant after attending the Impact! Conference in Guelph. I wanted to learn to keep bees but there weren't any programs available. I found that many of my friends were eager to learn too, so I contacted an experienced beekeeper in Edmonton to offer a weekend course. That is how ABC Bees was born. Now, 7 summers later, we're at 50 colonies and raising our own queens, and have taught over 2,000 people all over the NA continent!


Tell us about your #Bees4communites initiative.
The #Bees4communities partnership was built out of our values in collaboration. Just like honey bees, we wanted to see our communities thrive through mutualism. So the program has been built to work with local businesses that share our values for local food economics and collaboration. We have 15 partners, and the partners located on 17th Ave are Intrinsi Osteopaths, The Coup, UNA Pizza & Wine and Ox and Angela. The partnership allows for ABC Bees to have a dynamic and robust apiary to teach other community members how to manage bees while sharing the honey between partners. It allows us to focus on healthy hive management and outreach.


Describe your perfect day on 17th.
I love brunch at 1410 on Sundays. Then a lazy walk down to Caffe Beano and perhaps a stop-in at the Ship & Anchor.
What is your absolute fave on the Ave?
Since it didn't have a primary location before, I can't express my excitement for the new Made By Marcus Ice Cream on 17th. It's the best ice cream in town!
Favourite place to shop on the Ave?
I always like to go in to Reid's for birthdays and special events. They have really unique things there.


Best place for a night out on the Ave?
I recently went the Full Circle Pizza and Oyster Bar and I have to say, that's my new favorite.
What would you like to see on 17th in the future?
I think there needs to be a small hardware store to meet the local needs of the area. I hated needing a small tool to fix a project when I lived in the hood, and had to go to Home Depot miles away. I think a small place like that could make a splash.


What's up next for ABC Bees?
We received a small grant to build a commercial honey house (a place to extract honey). Our hope is to make this is to a community space available to small scale Beekeepers throughout the city by the Fall of 2018!
Stay up-to-date on all things ABC Bees by following them online:
Instagram: @abcbees
Twitter: @ABCbees
Facebook: facebook.com/abcbees/