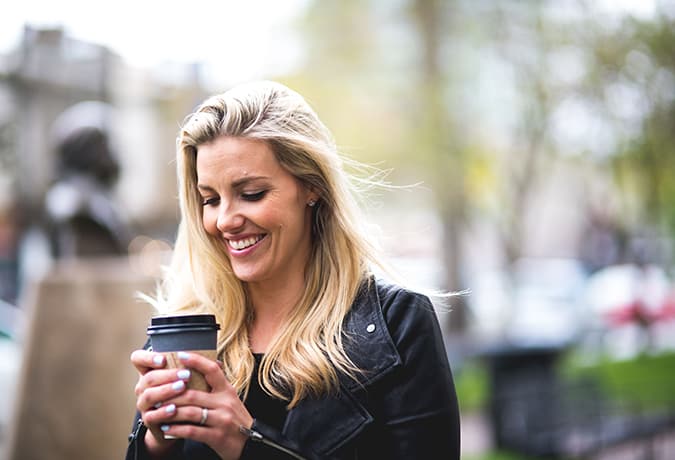 A community maven, killer sweat instructor (at One Cycle, Hot Yoga & Spin on Crowfoot and Lagree YYC), and above all, a loving wife and mother with the biggest heart, whose story captured all of ours.
In late 2016, the Olstad family welcomed their second child, Lewiston. Shortly after he was born, Lewiston was diagnosed with a rare genetic disease called Spinal Muscular Atrophy (SMA). After this devastating news, Jessica and her family decided to raise awareness and find a cure for their little one — and in the process united Calgary's community and many around the world. Though little Lewiston is now dancing up in heaven, his roar is heard loud and clear through the foundation created in his honour, Love for Lewiston. This month, we celebrate Lewiston's Birthday and catch up with Jessica on the Ave to learn more about her and her family's journey, what's next for her and how you can help fight SMA.

Tell us a bit about yourself. What gets you up in the morning?
Coffee, my daughter – cause she is literally my alarm – but most importantly, running towards my roar – doing the things that matter most.
What projects are you involved with right now?
I recently started a foundation in honour of my son who passed away in November 2016 of a rare genetic disease called SMA. Our foundation is called Love for Lewiston and aims to raise money for SMA and the Alberta Children's Hospital. I have my own blog, bringthejoy.ca, and I also help out with our business behind-the-scenes, as my hubby, "Hot Ronnie" is a partner in Chachis and Dirtbelly – local restaurants here in Calgary.


We heard you have a book in the works?
I'm writing a book to share our journey with our son Lewiston, and how Hot Ronnie and I came to be. The book is about the choices we make, the nudges in life, and of course joy. My goal is to launch it next fall.
You're a fitness instructor, social media guru & all-around inspirational person (and then some).
Ha – I wouldn't say I'm a guru in any of that, I'm just Jess. I am real, raw, and say it like it is. I share everything and don't really hold back on much. Some stuff is censored cause my parents watch me like a hawk. But really I just share our life. I share the mountaintop moments and the tough stuff. I have lived in depression, struggled with darkness, and now know joy. Living having that freedom makes such a difference.


How can people get involved to lend their support in helping find a cure for SMA?
Head to our website – host a fundraiser, make a donation to Fight SMA or Alberta Children's Hospital Foundation, or connect personally. If you read our story on loveforlewiston.ca about how SMA entered into our life, it is crazy how 9 years later our own son was diagnosed with it. One of my life goals is to find a cure. The work that has been done thus far is incredible.
Do you get any of your 'to-do's done on 17th?
Totally – funnily enough, I actually really love the TD Bank on 17th Ave. The staff has been incredible to our family. I love grabbing food from The Coup when I'm getting across town because it's healthy and super easy-to-go. The Ave is also a great spot to get cute gifts or meet a friend for coffee.


What is your favourite thing about 17th Ave?
I love the energy, amazing restaurants and of course, strolling on 17th Ave when spring and summer weather hit.
Favourite place to shop?
Kit and Ace.
Best place for a night out?
My hubby and I love Anju – the vibe is always great and they do amazing gluten free options – I'm celiac and can't mess around. I also love Ricardo's for a girls night on the patio with some Moscow Mules.


What's up next for you?
Our foundation just got launched, so I'm putting a solid plan in place for our goals, then taking time to get my book written and edited. The creative process is a lot harder than I thought – you can't always just sit down and crank out a chapter. I'll also be doing more blogging and speaking so I can share our story and encourage others to find joy. Hot Ronnie and I want a big family and are looking at next steps through IVF and adoption. Having kids naturally is much more risky now that we know we carry these genes, so we're being mindful about how we move forward.
Stay up-to-date on all things Jess Janzen & follow her on her incredible journey to find a cure for SMA: