Michael Mateyko is a working designer, illustrator and all around creative dude who lives and works in Calgary, AB. After completing his degree at ACAD, he worked at a few studios and decided to go it alone as a freelance artist a year and a half ago. Michael balances his career working on corporate projects with personal projects, art shows and markets. We caught up with Michael as he shared his inspiration behind Geek Confessionals, his installation that can be seen on 17th Ave during this year's Beakerhead.
You've worked with Beakerhead in the past – what keeps you coming back and what inspired Geek Confessionals?
Beakerhead is a young and passionate organization. They have a great attitude about getting things done without too much red tape, probably out of necessity, but I appreciate it all the same. Their mission to bring together art, engineering and science is definitely close to my heart; I was an engineering student before pursuing an education in the arts. Their staff also makes cool things happen in Calgary so I can't help but want to be a part of that in some way.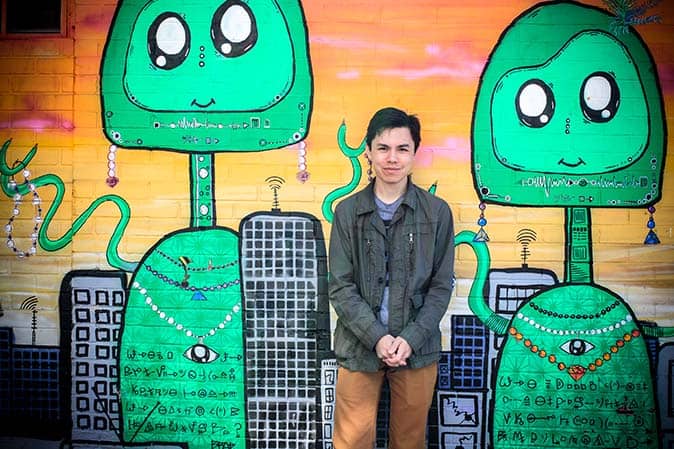 Geek Confessional grew out of a book that I wrote earlier this year. It was a semi-therapeutic treatise on my own anxieties but wrapped in a warm blanket of humor. Beakerhead supported the book and felt there was an opportunity to bring a Beakerhead-themed version to the public. We both agreed that there are lots of everyday people who have hidden interests in the arts, science or engineering that might be a little shy about it, so here's a great opportunity to let it all hang out.
Describe your perfect day on 17th:
Getting some work done at Beano is a good place to start! Buying my art supplies at Mona Lisa and digging for some weirdo candy at Freak Lunchbox go hand-in-hand. For dinner, eating far too much at Model Milk and then top the day off with a game of Street Fighter and a hot dog at Tubby Dog.
What is your best-kept 17th Ave secret?
Taco Tuesday at Tubby Dog is not to be missed. Also, Purr has a shirt that says HAPPY ALONE that I'm into.
Favourite place to shop?
Mona Lisa, mostly because I'm a fiend for felt pens.
Best place for a night out?
Model Milk, Pigeonhole, late night burgers at Clive.
What would you like to see on 17th in the future?
An arcade!!
What Beakerhead activities will you be sure not to miss?
Beakernight is always great! Relativity at Tomkins Park sounds rad, and the giant white rabbit at Central Memorial Park is looking like it'll be surreal, wonderful and a little terrifying.
Stay up-to-date on what Michael is up to by following him online below:
Instagram: @blackadde
Twitter: @blackadde
Facebook: facebook.com/mateyko
Online: komboh.com