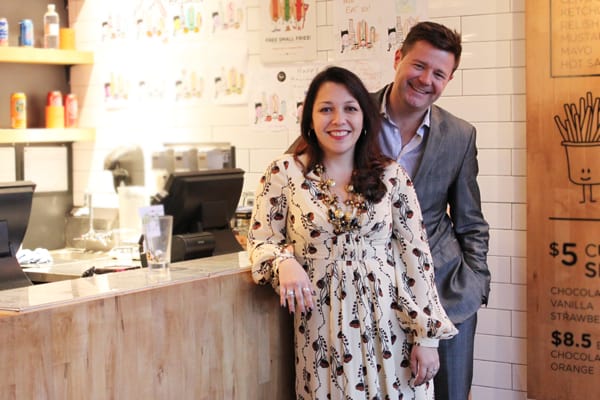 For Michelle Htun-Kay and Tony Kay, life in Calgary is about exploration. Having lived in places like the U.K., Romania, Moldova, Austria, and the Middle East, the power couple – she, the marketing and communications director for Beakerhead, and he, the British Consul General in Calgary – moved to Calgary two years ago for a change of pace and a change of scenery.
Both passionate supporters of local culture and causes (Michelle is also a volunteer for the Calgary Emergency Women's Shelter), the pair are quite fond of the city's burgeoning art scene, and – thanks to Michelle's Beakerhead involvement – the wonderful world of science and technology.
While the duo are relatively new to the avenue, they've had their fair-share of fun on it, quickly coming to admire 17th Ave's eccentricities and charm with its delightful round-up of quaint cafes, fine dining and casual boutiques.
We took a walk with Michelle and Tony to talk travelling, favourite hang-outs and what it is that makes 17th so alluring.
---
You travel a lot for business and have lived in many cities. What drew you to Calgary?
Tony Kay: "We move quite a bit because of my diplomatic career. Michelle and I have lived and worked in London, Eastern Europe, the Middle East, and when we were looking for something in North America, we wanted a city that was dynamic, a city that was growing and going places. Calgary was a natural draw because it was young, and seemed like a vibrant place where we could make a mark. I opened a new consulate general here in Calgary, and Michelle started out with Beakerhead. Starting fresh really appealed to us."
Michelle Htun-Kay: "I grew up in the U.S., so it was a real treat for me to return to North America and have my children experience living here. Because we know that we're only here for a finite period of time, we like to use all our available free time exploring the city and soaking up as much of Canadiana as possible in Calgary."
T: "17th Avenue was actually our first welcome into Calgary. We had our first beer at Local 510 on 17th, and our first dinner at The Living Room."
How would you introduce 17th Avenue to people who are visiting Calgary for the first time?
M: "Certainly the restaurants on 17th are a big draw. Tony and I are big foodies, so when we have visitors in town, we'll naturally come to 17th for a drink, then for dinner, then to explore from there. When we moved here, a lot of the concierge desks would recommend a restaurant on the avenue. We really like Model Milk and Ox & Angela. Since we've been here, we've noticed the community activity that happens in Tomkins park; during the summer, there's always something going on."
T: "The avenue has a real European vibe to it. There are many cities in North America where you have to drive around to get anywhere, which isn't really my cup of tea. What is, though, is wandering down a street like 17th where you have so many options. You can grab a coffee, get a bite to eat, do a little shopping, stroll into an antique store, grab a burger at a place like Clive Burger. There's so much choice in such a small area here and I hope that it retains its quirkiness and charm."
In terms of its culture, how important do you think 17th Ave is for Calgary?
M: "I think it's hugely important. Calgary has always been known as Cowtown, but it's certainly not the only thing that it's known for. People want variety when they live in a certain city, so it's really important that 17th stays the way it is to offer the local diversity and culture, and opportunities for small businesses to thrive here, local chefs to try their hand, as opposed to becoming a city with strip malls and no personality."
What's your relationship with 17th Avenue?
M: "Tony and I will have date night once or twice a week, and it very much revolves around food. We'll often come to 17th for dinner, and on the weekend, take the kids for lunch. I tend to spend a lot more time on 17th than Tony does, since our kids' activities are around here. If my daughter is at the Alberta Ballet school, then me and my son are coming down to Tubby Dog or Clive Burger for dinner."
T: "If 17th Avenue was a relative, it'd be that funny cousin that you ring when you want to have some fun. He's always reliable and you know that you'll never have a disappointing time when you're with him."
M: "I consider 17th like my young friend, who I want to be around to feel younger. It's such a casual and cool place to be."
Do you have any favourite hangouts, favourite boutiques?
M: "Cibo is great. And we go to Market a lot."
T: "Model milk is quite good too."
M: "Ox & Angela does a good lunch. And Gravity Pope is so great to checking out all the new season's shoes; I will go to Steeling Home and Reid's for gifts, and clothing-wise, there's Purr."