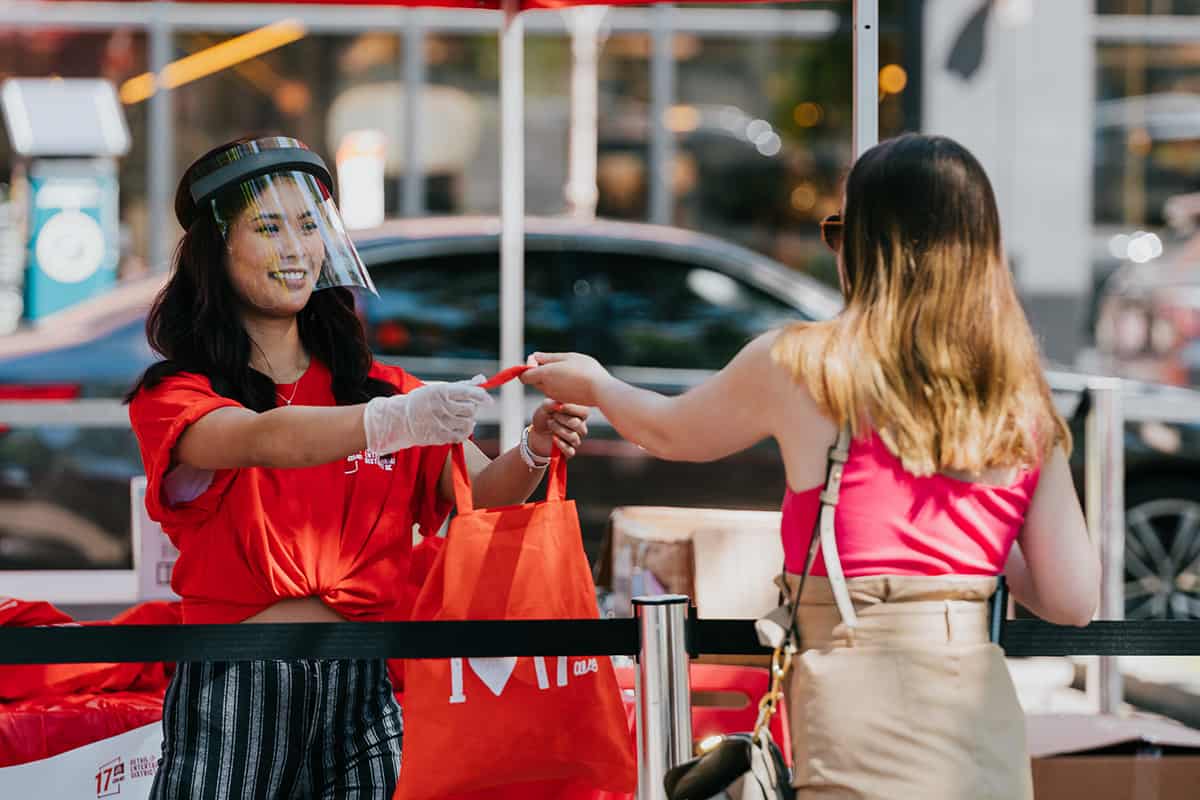 17th Ave Shop Hop
17th Ave Shop Hop looked a little different this year with social distancing protocols in place, but that didn't stop Calgarians from coming down to stop in and support their favourite 17th Ave businesses – 6 feet apart of course.
As 17th Ave Shop Hop VIP's arrived at Tomkins Park to start their shopping experience, they were gifted with their $25 voucher, as well a 17th Ave tote bag complete with Cowboy Kettle corn and refreshments to enjoy throughout their day. The voucher is redeemable at all participating businesses, including local favourites such as Blondie Boutique, Bamboo Ballroom, Leo Boutique, and big name brands like  Lolë, Arc'Teryx and Fjällräven.
And for those who like to break up their shopping day with an appetizer or cold beverage, there is also a handful of restaurants and cafes that participated. Some of these restaurants include 1410 World Bier Haus, Black Sheep Bakery and and Ollia Macarons & Tea. In addition to being able to use the voucher at participating businesses, Shop Hop VIP's were privy to a number of in-store activations and sales as well.
If you weren't able to cash in your vouchers this past weekend, it is valid until Saturday, July 25 at all participating locations.
#Maskupon17th & Enter To Win A $100 17th Ave Gift Card
We want to encourage the use of masks and no doubt you want a shot at winning a $100.00 17th Ave gift card. All you have to do is:
1. Mask up before you head down to shop
2. Follow @17thavesw Instagram page
3. Snap a public photo of yourself shopping, eating or using one of our many services on 17th Ave, and
4.Tag yourself and @17thavesw with the hashtags #Maskupon17th and #Meetmeon17th.
We will be doing a weekly draw and winners will be chosen every Monday until August 31, 2020. 
The Big Spend
If the VIP Shop Hop wasn't enough reason to head down to 17th Ave for some retail indulgence, then The Big Spend will be.
This Saturday, July 25, you can also participate in this one-day shopping event designed to encourage people to shop local and help revive Canada's economy. To participate, all you have to do is make an intentional purchase at a local business – 17th Ave has a pretty stellar selection if I do say so myself.
Follow along @TheBigSpend where they will be tracking the monetary progress across Canada. Check out thebigspend.com for more details.
We apologize to your bank account in advance, because we know what you'll be doing this weekend.   Check out our What's On page to stay up to date on the latest events on 17th Ave.
Stalk the latest and greatest on 17th Ave:
Instagram: @17thavesw
Facebook: @17thavesw
Twitter: @17thavesw