Craving bold flavours from far away lands? Step off of 17th Ave and into Khao San Thai (1314 17 Ave. S.W.), an avenue destination for outstanding Thai cuisine. Take a seat on a cozy tufted velvet banquette and spend a moment breathing in the aromas from neighbouring tables: fresh herbs,  steamed coconut rice and steeped jasmine tea set the stage for the delicious flavours headed your way.
Opened in July of 2012, Khao San Thai quickly became a popular lunch destination for its convenient and affordable features. A variety of mains such as seafood, chicken and beef are accompanied by steamed rice and a curry or flavourful fusion of your choice. With all lunch items priced at $18 or less from 11:30 a.m. until 3 p.m., Khao San Thai is a perfect midday break for anyone with a tight schedule.
The vibe is lush and lavish, creating the perfect backdrop for bold dishes. Modern decor mixes with eastern influences; heavy velvet drapes are dotted with metallic accents, and beautiful wood screens create private nooks throughout the space, perfect for intimate conversations.
For lunch, we decided on the chicken with a fiery basil-based mix of onions, bamboo shoots, fresh crushed chillies and Thai Basil leaves.
Of course, we couldn't resist indulging in a traditional red curry, perfectly paired with savoury sliced beef.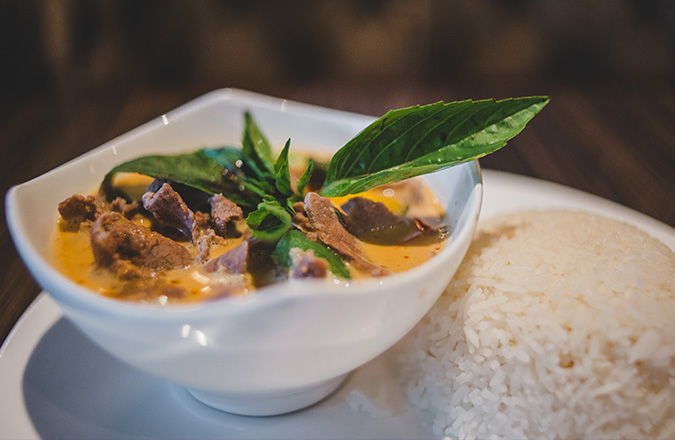 Authentic flavours come first at Khao San Thai. "We go to Thailand two to three times a year, and bring back new dishes," explains owner and partner, Sam Treeyachat. "My business partner Rungroj is there now, and will be coming home soon to share some new recipes."
For those of us craving a taste of Thailand without the 14-hour jetlag, head over to Khao San Thai today for an experience that's, well, straight out of Thailand.
Visit Khao San Thai  at 1314 17th Ave. S.W., and stay up to date on new menus and events by following them online:
Twitter: @KhaosanThaiKitc
Facebook: Facebook.com/KhaoSanThaiKitchen