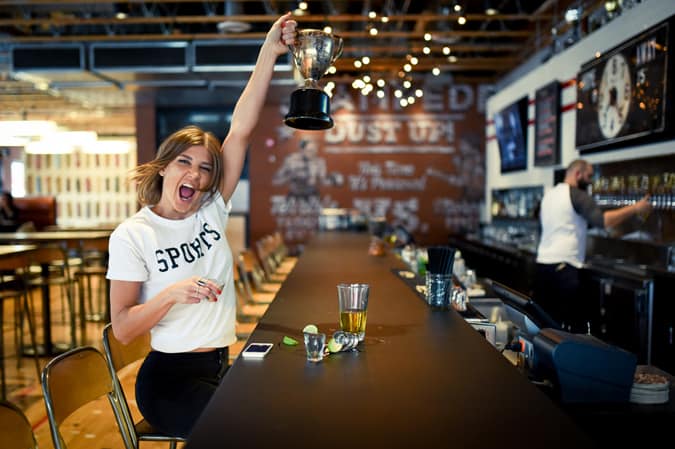 Can't make it to the game? Round up your team to cheer on all of your favourite sports teams action right here on 17th Ave.
1410 World Bier Haus
1410 loves all things sports and with 11 big screens, you're sure to catch the game from every angle. Take advantage of their 'Local Hour' with $5 pints and $8 steins 3pm-6pm Monday through Sunday. See more of their daily food and drink Specials.
Home & Away
Get fired up on game day at Home & Away. Don't miss a minute with their big screen tv's and tabletop speakers in this lively sports themed environment. Enjoy $4 pre-game happy hour on select beer, wine and well weekdays from 3pm-6pm and all day Sunday. Check out their Weekly Sports Calendar and Daily Features. Or let Home & Away take you out to a Stamps Game for the Western Conference Finals. November 20th tickets are $50 and include a burger, beer, bus & game ticket. Get yours from a manger at Home & Away today!
The Pint
Eat. Drink. Repeat; a play that we couldn't agree more with! Team up with your pals and cheer on your favourite teams. Enjoy the game while sharing on of their 'Team Platters' with your pals. Try their 'Full Pint Platter' for $34 which includes an order of Pint Sliders, 40-Way Wings and 40-Way Ribs and wash it all down with $4 highballs or $4 Flames Nation Beer during 'Happier Hour' from 9pm – 11pm daily. See their daily food & drink Lineup.
Jamesons Irish Pub
With their 'Recession Proof Happy Hour' happening daily from 3pm-6pm, Jamesons Irish Pub makes it easy to settle in for your sport viewing needs. Sip on $4 draft sleeves, well highballs, domestic bottles and $5 draft pints and their house wine by the glass. Catch their food specials every day of the week, like their Monday BBQ Pulled Pork Sliders for $2 each. See more of their Daily Features.
Boston Pizza
Looking to get out of Dodge? Check out Boston Pizza on Tuesday nights and enter to win a Road Trip to Montreal! Catch all the hockey action with sound at BP's; they've got $5.25 Molson Pints, pastas for $11.99 and Be sure to be there on December 20th whey they draw the lucky winner!
Roosevelt
Whether you're cheering on the Flames, Stamps or favourite UFC fighter, Roosevelt has you covered. Game day landing on a Monday? Pair your viewing pleasure with Roosevelt's $12 burger and $4.50 tall cans. Loosen up for game time with Happy Hour from 3pm – 6pm daily featuring $5 Caesars, highballs, $6 draft and $7 wine. See their Daily Specials.
Watchman's Pub
With stellar pricing of $7.95 on all food items (with beverage purchase) and $5.50 pints of Watchman's Draft, it's a match made in heaven. With their 18 hi-def flat-screens and surround sound, it'll feel like you're at the game. And with their ever changing Daily Features, Watchman's is an easy choice to catch your fave team in action.
Trolley 5
Catch the Trolley 5 Express to all Calgary Flames home games. For $20 you get 1 Flames menu item, 14oz. Conductor Lager and a lift to the game. Reserve your seat on their trolley by emailing [email protected].
Ship & Anchor
For all you soccer fans, the Ship is the place to be. Enjoy live broadcast matches from around the world on their big screens from the European Leagues, Champions League, Europa League, Euro Cup & World Cup. Enjoy one or two of their $5 Recession Pints and pair it with their daily special or perhaps the Ship burger loaded for $10.95. See their menu.
Stay up-to-date on all things 17th Ave by following us online:
Instagram: @17thavesw
Twitter: @17thavesw
Facebook: 17thavesw