Indulge in Fall Flavours
Who doesn't love a good Pumpkin Spiced Latte with extra whip and a sprinkle of cinnamon? It truly is the theoretical cherry on top of an already wonderful season. AND 17th Ave restaurants, coffee shops and bakeries have been pulling out all the stops to provide us pumpkin loving, fall obsessed folks with all of the Autumn themed goodies to get us through this next month. 
Here's something the whole family will be thankful for this October – a tray of Jelly Modern Doughnuts in fall flavours like Maple Cream, Apple Streusel, Pecan Pie and Pumpkin Tiramisu. 
Find out more here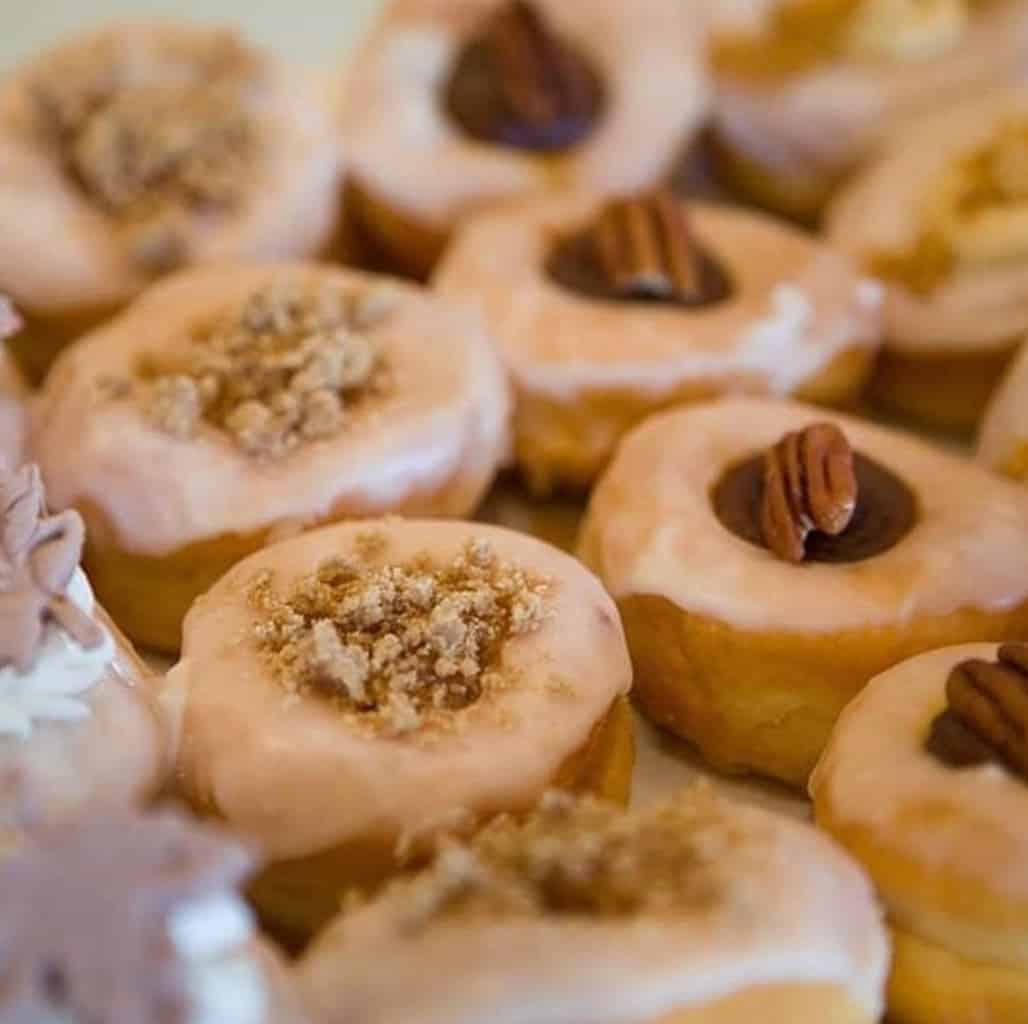 Don't miss out on Black Sheep's Pumpkin & Spice Madeleine and Croissant, and Pumpkin & Spice Spread, only available until October 31 – Run, don't walk! 
Find out more here
Public Service Announcement: Made By Marcus has brought back their Drunkin' Pumpkin Sundae at their 17th Ave location only! Made with pumpkin pie soft serve, topped with whiskey caramel amaretti cookie and fried sage, available for the month of October. They've also brought back their Pumpkin Ice Cream Cakes, made with an almond butter Rice Krispy base, pumpkin pie ice cream, caramel glaze and torched marshmallows. 
Find out more here
Swing by this mainstay Calgary coffee shop and indulge in a House-made pumpkin muffin with candied ginger and walnuts to accompany your daily cup of java. 
Find out more here
For your favourite fall treats baked to perfection, check out Rustic Sourdough Bakery's selection of Pumpkin Pie, and Pumpkin shaped sugar cookies, as well as year round favourites like their Ginger Pumpkin Pound cake and Sunken Apple Pound Cake. 
Find out more here
Part bistro, part bakery, this 17th Ave spot serves up tasty treats both sweet and savoury, including their delicious pies, which are made year round and feature flavours like strawberry rhubarb and Saskatoon. But because it's Fall, we recommend the Apple Pie, made with peeled Granny Smith Apples.  
Find out more here
17th Ave's newest resident Cobs Bread is serving up freshly baked pumpkin scones made with ingredients like Pumpkin puree, cinnamon and nutmeg, and topped with a cream cheese glaze and caramel drizzle.  They also have Pumpkin tarts, perfect for the upcoming holiday!
Find out more here
Shop for Cozy Fall and Winter Gear 
As Calgarians, we know that this beautiful, mild and sunny weather we're getting right now won't last long – hey, don't shoot the messenger, this is Calgary, it's gunna snow at some point. So be prepared this year with warm outerwear, cute sweaters and boots that will last you through the season. Check out the below 17th Ave retailers who have got you covered (literally) for this chilly season. 
Grinning Goat's Fall Accessories
From Relife boots to Matt & Nat accessories, Grinning Goat has all the accessories you need this fall to complete any look, while also sporting brands that are ethical and functional. For those cold weather days, try out the Relife Angela boot in brown, with grippy outsoles and water resistance for winter conditions, or the Matt & Nat Will small tote, which will pair perfectly with your favourite chunky sweater this fall.
Find out more here
Arc'Teryx Fall Outerwear
Calgarians are no stranger to a cold fall and the early onset of winter, but luckily Arc'Teryx has you covered (literally) with their collection of parkas, hard-shells, insulated hoodies, vests and more. Go for the always versatile Atom Hoody, which is lightweight, synthetically insulated for warmth, and available in 8 vibrant colours.
Find out more here
Pudding Yarn's Cozy Yarn
There's nothing that encapsulates the essence of Autumn more than wooly sweaters, wraps, mittens, toques and scarves. At Pudding Yarn, they have yarns and sewing accessories so you can create your own comfy fall favourites, as well as patterns to ensure you're creating quality items that will last.
Find out more here 
HG Vintage's Tees and Crew Necks
Buy second hand and browse HG Vintage's eclectic and unique collection of tees, crew necks, jackets and more – a perfect addition to your favourite fall outfit, paired with denim, and your go-to accessories.
Find out more here
Find more places to shop for Fall Here! 
Check out Fall Happy Hour Specials and New Menus 
With the changing of seasons comes the changing of menus! Check out these 17th Ave restaurants who've shifted gears for Fall with new menu items and Happy Hour specials!
 This eclectic, revered 17th Ave joint re-opened in September with an entirely new menu and an amazing happy hour from Thursday through Sunday, where you can enjoy 50% off all wine, beer and cocktails between 2 and 5 p.m. 
Find out more here
With a new patio, new menu items, and awesome deals for their customer appreciation month, which ends on Sept. 30, Ceili's is a destination you need to hit up before their patio weather ends. 
Find out more here
This late night joint not only launched a new menu, but a new $5 happy hour from 7-9, Wednesday through Saturday. 
Find out more here
kb&co opened up their 17th Ave location this July, where they serve a delicious and entirely plant-based menu. Try one of their many variations of avocado toast, or vibrant nutrient-packed smoothies. They are also serving up their take on a Pumpkin Spice Latte for the Fall!
Find out more here
 Another 17th Ave newbie, TEN Degrees Chocolate opened up their Chocolate Factory, Cafe and Dessert Lounge this August, and in addition to their selection of handcrafted bon bons, they're also offering a selection of Fall features such as Caramel Apple Cider, Maple Cream Pie Latter, Chocolate Pumpkin Whoopie Cookie and a Harvest Couscous salad. Check them out today to see the rest of their tasty Fall-themed treats.
Find out more here 
Get in Your Last Days of Patio Hopping
And lastly, since our days in the sun are limited, be sure to get to one of 17th Ave's many wonderful patios. Check out our complete list here. 
Stalk the latest and greatest on 17th Ave:
Instagram: @17thavesw
Facebook: @17thavesw
Twitter: @17thavesw