As a dating coach, Myke Macapinlac is all about giving off the right first impression with his personal style. Practice what you preach, right? His look is put-together, sleek, with a touch of rock and roll. I love the leather jacket, as I think a bomber is the perfect staple for anyone's closet. Macapinlac pulls it off brilliantly with added layers, print, colour and texture – and I couldn't resist but photograph the  Social Man Project's founder sitting in front of the 17th Avenue giant heart.

What's the one thing in your closet you couldn't part with?
It'll have to be my leather biker jacket. It makes me look like an instant badass.
How has your career influenced your personal style?
As a dating coach, I'm always mindful of how I present myself as soon as I leave my doorstep. While I can't control my height, looks and skin colour, my personal style is something I can always do something about. Success is when opportunity meets preparation. Dressing well means you're always ready for whatever life throws at you.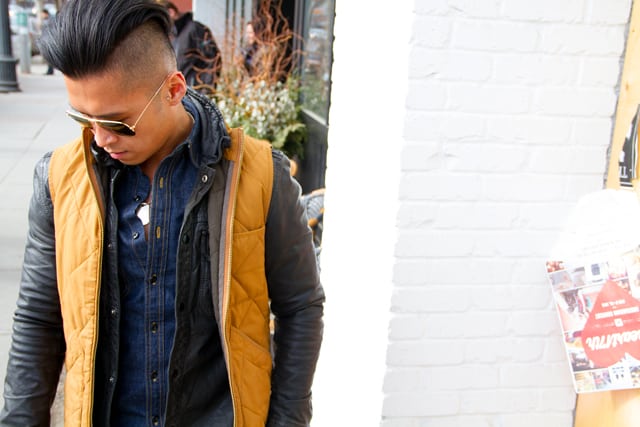 What's your favourite part of 17th Avenue?
I'd have to say the area around Mount Royal Village. It has everything I need within walking distance.
What are some of your favourite spots on 17th and why?
There are lots of places that I like on 17th but there are definitely a few that stand out to me. Caffe Beano is a great place to disconnect from social media and tap into your creativity (since there's no internet). I think every guy who wants to improve their style should stop by Less 17. Their collection is amazing! If you get hungry, you can't go wrong with a burger from Clive. Great value for what you're paying for.

How would you describe your personal style?
Two words: Joyful rebellion. I hate being told what to do and never bought into conformity. When most people zig, I zag.That attitude reflects my career choice and my personal style. That's why I tend to wear a lot of denim and leather with a splash of colour every now and then.
What do you think is the most important part of putting together an outfit?
Your style speaks before you even open your mouth. The most important part of putting together an outfit is to make sure it's giving off the right first impression to the people you come in contact with.

What trends are you the most excited about?
After spending quite a bit of time in New York, LA and Vancouver, I'm really excited to see more guys wearing longer shirts with tapered jeans. It's an interesting mixture when it comes to layering.
Anything you would never do when it comes to fashion?
Bootcut jeans should ONLY be worn during Stampede. That's it.

What else would you like to see on 17th Avenue in the future?
I'd love to see more public art from local artists. We have a lot of talent here in Calgary and they deserve to be recognized.
Stay up-to-date on the Social Man Project's advice and happenings by following him online below:
Twitter: @mykemacapinlac
Facebook: facebook.com/socialmanproject