This month, our 17th Ave. Street Style Huntress, Aldona B., is all about the vintage. Catch up with Aldona as she talks style & substance with Sarah Sussman, who rocks the Hip Hop and the funk the right way.
---
Aldona B: "It was back in 2011 when I first spotted Sarah Sussman walking down Stephen Avenue rocking a fluorescent pink lipstick and bold '90s-inspired sweater. I photographed her immediately.
What a sweet and lovely surprise then, when I walked into USED House of Vintage one day to find Sarah, a Prairies regional editor for Hip Hop Canada, also working as the store's newest manager.
I've loved bumping into her like this over the years, as it's given me the opportunity to marvel over her fantastic personal style, which she does with such a unique, personal flair. She wears it all, and wears it well, and really makes my job of photographing stylish people so fun."
How long have you been manager at USED and what's your favourite part of the job?
 "Just over a month now; I love the customers we have here! You get a really funky mix of people on 17th Avenue, and when they come in, you get to find out their stories and what they're up to. It's really fun."
What's your favourite part of 17th Avenue?
"I just love that it's so vibrant, with so much going on and so many fashionable people, art, culture and food. It's just all happening here!"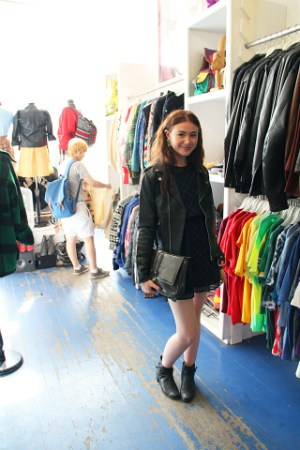 How would you describe your personal style?
"I go all over the place. Right now I'm in my vintage bohemian phase, which is very much inspired by working at the store. Last year was my big hip hop phase since I work for Hip Hop Canada, so that was a lot of gold chains and booty shorts. And now I'm getting into a cool grandma look."
What fall trend are you excited for?
"I'm a huge fan of the leather jackets and the floppy hats. I just purchased my first ever floppy hat and I love it. A lot of the collared shirts as well."
What else would you like to see on 17th Avenue in the future?
"I would love to see more vintage stores."
What are some of your favourite spots on 17th and why?
"I've become a huge fan of Clive Burger, now that I'm just two doors away from them. They have the best french fries in the city, for sure. I also love Analog, it's really posh and also next door."