You may have picked up the latest issue of Dote Magazine and "oooo-ed" and "ahhhh-ed" at all the beautiful imagery this local lifestyle mag has to offer. Much of those bright and well-styled photoshoots and Instagram posts are the brainchild of Alexandra Joy (A.J.) Wig – the Style Editor for Dote Magazine. With her background in Communications and Marketing, along with her knack for all things pretty, A.J. has become one of the top life-stylists our city has to offer. Not only involved with Dote, you can find her styling various events and weddings, even hosting workshops on how to stage the perfect photo for your social media feed. This month we were so excited to catch up with A.J., see what else she's up to, and where she likes to hangout with her darling daughter, Clover, along the Ave.
Tell us a bit about yourself? What gets you up in the morning?
Usually a sweet little blonde toddler is what's initially getting me up in the morning. Her, and simply my desire to create. Currently my days are a mix of mama moments with my amazing daughter, Clover, and working away at the creative hub at Dote Magazine.
As the Style Editor of Dote, my role includes a vast list of responsibilities: creative and editorial concept development with my team, event planning and execution, creative direction on photo shoots, prop and wardrobe sourcing, community relations, social media content development and management, plenty of photo styling, and the list goes on. We're a small team of passionate ladies who are living the hustle to make this project great.
The Dote mission is all about a well-styled and meaningful life. There's nothing I want more than to live that out and inspire others to do the same. No matter what the day, I always try and infuse beauty, thoughtfulness and creativity into each moment. Especially when it comes to time with my daughter.
Describe your perfect day on the Ave.
Any great day begins with brunch! I love to start a day on 17th with waffles and coffee at Buttermilk Fine Waffles, most likely with my hubby and Clover. It's fun, delicious, and toddler friendly. We love to take Clover most places with us, but never want to compromise good food or atmosphere.
Strolling is always on the agenda for us, especially when it's beautiful outside. Calgary and 17th Ave. seem to come alive in the Spring and Summer, and I couldn't love outdoor eating and living more.
Steeling Home is always on the list for shops to pop in and see what's new. I typically pick up some great gifts, home décor items, and they always have really fun baby and kids products.
It's probably time for another coffee by now. Coffee, always, coffee. I rarely visit 17th without a stop at Analog for a latte and it's the perfect little corner for people watching. It's also a top pick for meetings with clients, or creative briefing with friends and Dote collaborators.
A day on 17th most likely ends with a visit to Ollia for some French macarons. I'm a believer in beautiful spaces, experiences, and products, and Ollia is nothing short of that.
What is your best-kept 17th Ave secret?
Two favourite food items definitely come to mind…You can't beat a stop in at Clive Burger– one of my go-to spots for a late night snack after a movie or hang with friends. You must try the coffee custard shake!
Another 17th Ave. gem tucked behind Janice Beaton's FARM restaurant is her amazing Cheese Shop that has a Grilled Cheese Bar. Best discovery. You must get the "FARM" grilled cheese- aged cheddar, housemade tomato chili jam, and arugula, get it to-go and find a bench or green space to enjoy this seriously amazing sandwich.
Favourite place to shop?
One of my absolute favourite shops in the city is Reid's Stationers. It's my top pick for specialty paper and party décor and supplies. Great events are achieved through attention to detail and Reid's seems to always do the trick.
In our Spring/Summer issue of Dote, I curated an article called The Party Pantry where I speak to creating a closet in your home to house all kinds of supplies, décor, and entertaining pieces to help keep you organized and ready to host. Reids is the perfect spot to stock up on cards, disposable party ware, décor, and gifts.
West Elm is also high on my list of stops when I'm visiting 17th Ave. I always pop in for home and design inspiration. Throw pillows, tabletop accessories, and pretty storage baskets, yes please. I also love that they often showcase local products and artists.
 Best place for a night out?
My kind of night out needs to include a few simple elements: great company, a beautiful atmosphere, and excellent cocktails and food. I love eating dinner late and then taking a walk along 17th and people watching.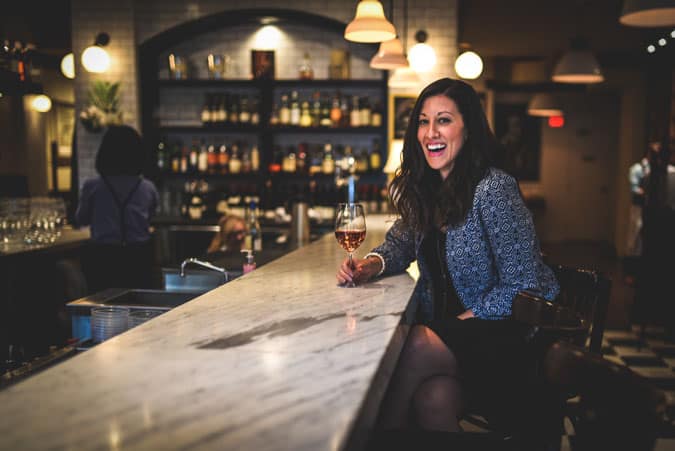 Pigeon Hole and The Coup would be my top choices for a girls' night out, and I have some really nice date night memories with my husband at Parc Café & Brasserie and Market.
 What would you like to see on 17th in the future?
More boutiques and shops. A visited destination for us for food and beverage but would love to see more specialty retail shops pop up here and there.
What's up next for you?
The rest of my day will include a coffee shop work session to do some planning for an upcoming Dote photoshoot in Waterton, then home to kiss my baby, check in on our bathroom renovation, and head to a movie with my husband. Maybe sneak in a Clive custard shake afterwards!
Stay up-to-date on all things AJ Wig and Dote Magazine by following them online below: